Lil Boosie - The 25th Hour
Submitted by hardb0dy on Tue, 11/10/2009 - 1:45pm.
Dirty South | Mixtape Torrents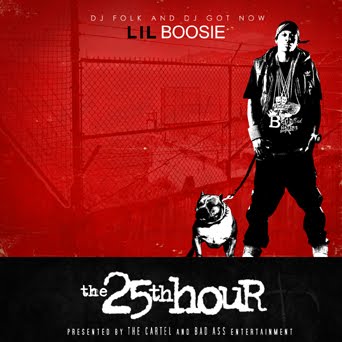 *UPDATE*: Download the official version here
This is the No DJ version of The 25th Hour mixtape with Lil Boosie and DJ Folk. This was released in his hometown this week. It's still not the official version of the mixtape, the final could have more songs.
Enjoy til the final release.
01. Bout It, Bout It Ft. Lil Quick, Lil Jas & Hatch Boy
02. She Goes So Hard Ft. Lil Quick & Jersee Fatz
03. Be Careful Ft. Money Bag$
04. I Did You Wrong Ft. Lil Quick
05. Down Here Ft. Lil Quick, Lil Jas & Money Bag$
06. If I Could Change Ft. Lil Quick & Money Bag$
07. I Been Icy
08. My Children
09. Death Around The Corner Ft. Lil Quick & Yung Giga
10. They Scared
11. Bossman Ft. Bad Azz Ent.
12. Missin You
13. I Ain't Mad At Cha
14. Did Her Wrong
15. Until The End Of Time Ft. Money Bag$
16. Late Night Flights
17. Showin Up Ft. Lil Trill
How To DOWNLOAD