The Infamous Bobb Deep: Queensbridge Meets Kingston
Submitted by mfizzel on Tue, 11/22/2005 - 7:23pm.
Mixtape Directory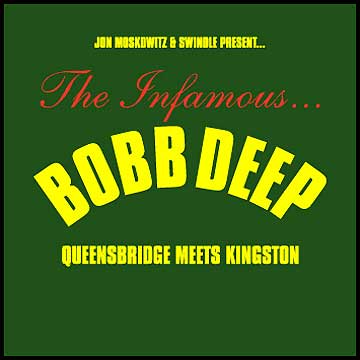 DJ Swindle and Jon Moskowitz beautifully execute one of the hottest
concept mixes we've seen around: Mobb Deep versus Bob Marley aka.
Bobb Deep. This creative creation combines two of the more unlikely of
collaborations and blends, remixes, mashes and re-produces this Instant
Vintage mixtape blending the Queensbridge hip-hop duo with the Legend.
1 - Got It Twisted (Bobb Deep remix) [3:28]
2 - Shook Ones pt. 2 (Bobb Deep remix) [3:58]
3 - Clap Those Thangs feat. 50 Cent (Bobb Deep remix) [3:58]
4 - Front Lines (Hell On Earth) (Bobb Deep remix) [5:13]
5 - Drop A Gem On 'Em (Bobb Deep remix) [4:08]
6 - Stir It Up (Quiet Storm) (Bobb Deep remix) [3:59]
7 - Gangstaz Roll (Bobb Deep remix) [3:44]
8 - Rare Species (Modus Operandi) (Bobb Deep remix) [4:22]
9 - Survival Of The Fittest (Bobb Deep remix) [3:33]
10 - It's Mine feat. Nas (Bobb Deep remix) [3:59]
How To DOWNLOAD