Mr. Peter Parker - How Hard Do You Hustle 3 (Hosted by Lupe Fiasco)
Submitted by jada1212 on Sat, 02/16/2008 - 9:15am.
East Coast | Mixtape Torrents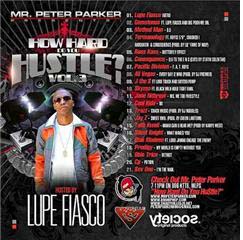 1. Lupe Fiasco Intro
2. Gemstones ft. Lupe Fiasco and Big Pooh-We On.
3. Method Man-O.D.
4. Termanology ft. Royce 5'9", Crooked I, Akrobatik & Consequence
(prod. by Lil' Fame of MOP)
5. Rass Kass-Butterfly Effect
6. Consequence-Q U To the E N S (cuts by Statik Selektah)
7. Pacific Division-F. A. T. Boys
8. Ali Vegas- Every Day iz War (prod. By Dj Premier)
9. J the S ft Lord Touch and Skyzoo-Pump
10. Skyzoo ft. Black Milk-Hold Tight Rmx.
11. Jane Nithrow-Ms. Me Too Freestyle
12. Cool Kids-88
13. Trazz-Crack Music (prod. By Dj Noodles)
14. Jay Z-Sweet Rmx. (prod. By Green Lantern)
15. Talib Kweli- Mama Can U Hear me? (prod by Kanye West)
16. Silent Knight- What Makes You
17. Blak Madeen ft. Lord Jamar-Engage the Enemy
18. Prodigy- My World is Empty Without You
19. Obie Trice-Detriot
20. Cp-Potion
21. Sev One- I'm the Man.
How To DOWNLOAD