Hell Rell - Streets Wanna Know
Submitted by mfizzel on Tue, 11/22/2005 - 7:30pm.
Mixtape Directory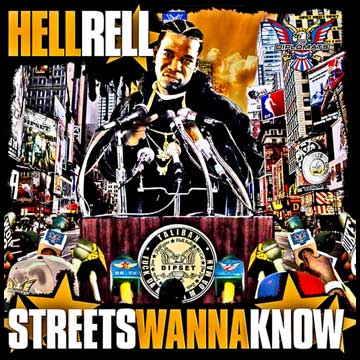 Diplomat Records aka. The Dipset is back harder than ever with the
official solo mixtape release of the flame-spitting, next-up-to-bat Hell
Rell on some real Dipset shit. The Dipset Movement continues on as
this Harlem heat-seaker lays down the standard Dipset anthems we've
grown accustomed to and shows the streets why he's the Dipset breed.
1 - Intro
2 - Rap Sheet
3 - Shoot To Kill
4 - Die Muthafuckas
5 - On My Block
6 - Well Known
7 - Bang Out
8 - Shots Fired feat. Juelz Santana
9 - Freekey Zekey Phone Call
10 - Y'all Don't Want War
11 - Jesus In My Life
12 - Dreams
13 - Ruger Rell & Writer feat. J.R. Writer
14 - Monsters Part 2
15 - Keep It Thoro
16 - Grand Finale feat. 40 Cal. & J.R. Writer
17 - Intermission
18 - What I'm About feat. Cory Gunz
19 - Freestyle
20 - Hellrell
21 - Gangstas & Murders feat. Bezel
22 - Uh Uh feat. Juelz Santana
23 - Freestyle
24 - Freestyle
25 - What You Into feat. Ash & Sin
26 - Bonus
How To DOWNLOAD