DJ Whoo Kid - Lloyd Banks: Mo' Money In The Bank Pt. 4
Submitted by mfizzel on Sat, 05/27/2006 - 2:44am.
East Coast | DJ Whoo Kid | Mixtape Torrents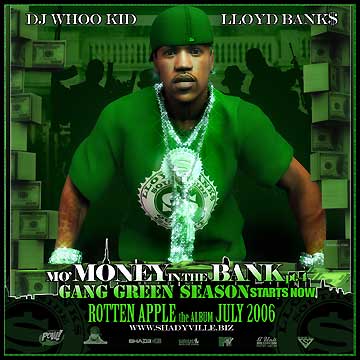 Being hailed as "the best music that Lloyd Banks has ever done for
street promo" by some guy named 50 Cent, this mixtape features only
the freshest cuts from DJ Whoo Kid and "The Boy Wonder." With the
"Billion Dollar Budget" Curtis ignoring the big-faces to flood the streets
with G-Unit mixtape narcotic, the fans win out. With Banks' sophomore
album Rotten Apple coming this summer, this joint is the official teaser.

1 - Dolby Nigga
2 - 'Pay Jimmy Iovine The Money' Skit
3 - Gang Green Season
4 - The Shitty City feat. 50 Cent
5 - Return of Ja Fool Skit - Hood Newz
6 - The Work Out pt. 4 feat. 50 Cent
7 - Money Is Power ski
8 - The Cake feat. 50 Cent
9 - My House [produced by Timbaland]
10 - Take A Picture
11 - Dead Nigga Storage
12 - Killas Theme feat. Tony Yayo
13 - Lamborghini Lloyd
14 - Special
15 - I'm Back
16 - Donald Trump - Banks Taking My Popoff Skit
17 - The Rush
18 - Jamie Foxx
19 - 1970 Something
20 - 1 Shot Deal
21 - 70 Bars
22 - Been Around The World
23 - Dan Akroyd Outro
How To DOWNLOAD