DJ Scream - Pimp C: The Pimp C Collective
Submitted by mfizzel on Sat, 03/11/2006 - 11:12am.
Mixtape Directory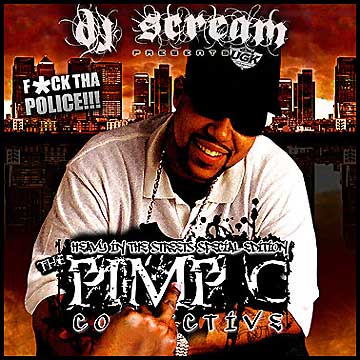 DJ Scream pays tribute to the freed up and G'd up Texas rap legend
Pimp C, one half of the famous H-Town collective UGK. With the TX
pimp recently released from Harris County jail, you know the dude be
on his grizzly for 2006. With every cat in the South trying to collaborate
with the Underground King, this pimped out mixtape is strictly Pimp C.
1 - Intro
2 - Murder
3 - Break Em Off Sumthin
4 - Like A Pimp
5 - Hogg In The Game
6 - Choppin Blades
7 - Look At Me
8 - Pimpin Aint No Illusion
9 - Let Me See It
10 - Take It Off
11 - Like Dat
12 - Swang
13 - Suppossed 2 Bubble
14 - Front, Back, Side 2 Side
15 - Diamonds & Wood
16 - Chunked Up Tha Duece
17 - Get Throwed
18 - Sippin On Some Syrup
19 - Big Pimpin
20 - Family Affair
21 - Free
22 - Corruptor's Execution
23 - Down Here
24 - Tossed Up
25 - Murda Man Dance
26 - Coming Up
27 - Play Hard
28 - Belts 2 Match
29 - Top Notch Hoes
30 - Whood Wheel
31 - One Day
32 - In Luv Wit A Stripper with T-Pain, Paul Wall, Pimp C, Twista, Too Short & MJG
How To DOWNLOAD