DJ Keyz - D-Block R&B Collabs (Inventing The Remix #13)
Submitted by mfizzel on Thu, 05/11/2006 - 6:51am.
Mixtape Directory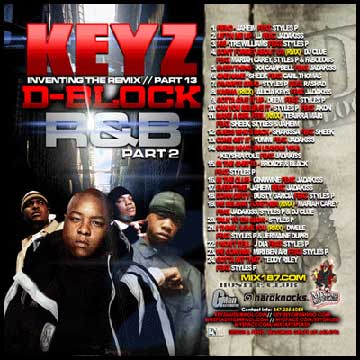 DJ Keyz is a man about collaborations and on this edition he's bringing
you the hottest D-Block R&B remixes, cameos and collabs. Yonkers'
fiercest emcees don't exactly come soft on these tracks, but they are
R&B joints. Featuring D-Block tracks with Carl Thomas, Ginuwine, Tre
Williams, Teairra M., Akon, Jaheim, Keyshia Cole, Dwele & Miri Ben Ari.

1 - Jaheim feat. Styles P - Fiend
2 - LJ feat. Jadakiss - Liftin Me Up
3 - Tre Williams feat. Styles P - I-95
4 - DJ Clue feat. Mariah Carey, Styles P & Fabolous - Don't Forget About Us (remix)
5 - Joi Campbell feat. Jadakiss - Everything
6 - Sheek feat. Carl Thomas - One Name
7 - Styles P feat. Rashad - Favorite Drug
8 - Jadakiss - Karma (remix)
9 - Deemi feat. Styles P - Gotta Give It Up
10 - Styles P feat. Akon - Can You Believe It
11 - Teairra Mari feat. Sheek, Styles & Jaheim - Make A Girl Feel (remix)
12 - Sharissa feat. Sheek - Guess Who's Back
13 - Yummi feat. Jadakiss - Come Get It
14 - Keyshia Cole feat. Jadakiss - Guess What (I'm Leaving You)
15 - Bronze & Black feat. Styles P - In The Ghetto
16 - Ginuwine feat. Jadakiss - In The Club
17 - Jaheim feat. Jadakiss - Everytime
18 - Dusty Garcia feat. Styles P - Down Dirty
19 - Mariah Carey feat. Jadakiss, Styles P & DJ Clue - We Belong Together (remix)
20 - Styles P - Talk To 'Em Slow
21 - Dwele feat. Styles P & Jermaine Dupri - I Think I Love You (remix)
22 - J Dia feat. Styles P - I Won't Tell
23 - Miri Ben Ari feat. Styles P - We Gon Win
24 - Teddy Riley feat. Styles P - Gotta Hit That
How To DOWNLOAD