DJ Keyz & DJ Clue - Styles P: Men of Respect
Submitted by mfizzel on Tue, 11/29/2005 - 12:02pm.
Mixtape Directory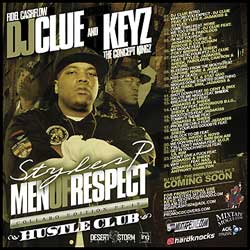 DJ Keyz aka. The Concept Kingz and DJ Clue? aka. Fidel Cashflow
break a gang of new Clue? records off his upcoming album for this
special Styles P. mixtape. This collaborations joint features all the
hottest cameos, remixes and verses from The Gentleman Styles P.

1 - DJ Clue? Intro
2 - Who Did You Expect - DJ Clue? feat. Styles P, Jadakiss & Styles
3 - Come Thru feat. Nore
4 - We Too Street - DJ Clue? feat. . Styles P & Fabolous
5 - I'm Not You feat. Jadakiss, Clipse & Roscoe P. Coldchain
6 - My Niggaz feat. Foxy Brown & Sheek
7 - Fantastic Four Pt.2 - DJ Clue? feat. . Styles, Jadakiss, Sheek, Fabolous, Cam'ron & Nature
8 - Bleeding From The Mouth feat. Capone, Nore & Jadakiss
9 - Kiss Of Death (remix) feat. Jadakiss, T.I. & Stat Quo
10 - Niggas Done Started Something feat. Mase, DMX, Jadakiss & Sheek
11 - Shot Down feat. 50 Cent & DMX
12 - Salute Me Nigga feat. Sheek
13 - Breathe Easy feat. Jadakiss & Sheek
14 - Last Day feat. Notorious B.I.G., Sheek & Jadakiss
15 - Shootouts feat. Jadakiss
16 - Tommy's Theme feat. Jadakiss & Sheek
17 - Problem Child feat. Jadakiss
18 - Kiss Your Ass Goodbye feat. Sheek
19 - D-Block To Qb feat. J-Hood, Havoc & Noyd
20 - We Gon Win feat. Miri Ben Ari
21 - Y'all Don't Wanna feat. M.O.P.
22 - Get In Touch With Us feat. Lil Kim
23 - I Don't Give A Fuck feat. Jadakiss & Sheek
24 - Why (remix) feat. Nas, Jadakiss, Common & Anthony Hamilton
How To DOWNLOAD