DJ 31 Degreez - Gangsta Boyz Pt. 2
Submitted by mfizzel on Sat, 08/19/2006 - 2:51pm.
Dirty South | DJ 31 Degreez | Mixtape Torrents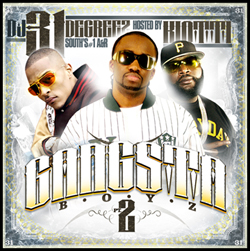 DJ 31 Degreez is on the road again and he's
reppin' the South to the fullest. This time he's
picked up H-Town's own Kiotti, and he's
bringin' him along for the ride on this brand new
mixtape.
With spankin' new tracks and major world
premieres from some of the biggest names in
the rap game, this mixtape features 25 joints
from artists all over the map.
Featuring tracks, freestyles & appearances
from 50 Cent, Rick Ross, Young Buck, Outkast,
Lil Wayne, Snoop Dogg, E-40, Ludacris, T.I.,
Young Joc, The Clipse, and more.
1 - Rick Ross - Hustler Motivation
2 - Kiotti - Heat
3 - Outkast Ft Lil' Wayne & Snoop Dogg - Hollywood Divorce
4 - Kanye West Ft Beanie Sigel & Raekwon - If I Shot You
5 - Rick Ross Ft Kiotti & Memphis Bleek - Push It (Remix)
6 - E-40 Ft Juelz Santana, Snoop Dogg & T-Pain - U & Dat (Remix)
7 - Fabolous - Ball Til' I Fall
8 - Bun B - Step Up
9 - Killer Mike - That's Life (Dissing Bill O'Reilly)
10 - Kiotti - Going Off 2k7
11 - Rick Ross - Coke Star
12 - Snoop Dogg Ft Pharell & B-Real - Vato
13 - Pharrell-International Swagger (Not On Album)
14 - Papoose & Bun B-Ridin Hard
15 - Slick Pulla & Jae Millz-Gangsta
16 - Trina-Whats Beef?(Dissin B.G.,Gillie The Kid, Khia)
17 - Mary J Blige,T.I.,Jay-Z-Turn Off Lights(remix)
18 - 50 Cent - Make A Movie Out Em
19 - Young Swift-Jewelz Drippin
20 - Rick Ross & B.G.-The Suppliers(not on album)
21 - Camron-Weekend
22 - Clipse-Aint Cha
23 - Roam Bad Daddy
24 - Jay Flame-Time For Us
25 - Young Buck & Jazze Pha-I Want Some
How To DOWNLOAD