Big Mike & DJ Clue - Ransom: Pain & Glory
Submitted by mfizzel on Tue, 07/18/2006 - 9:44am.
East Coast | Big Mike | Mixtape Torrents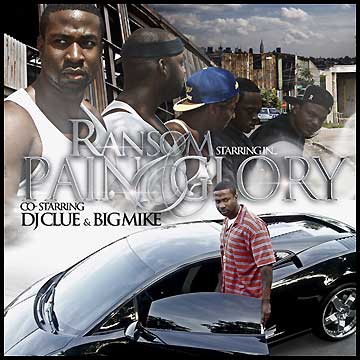 Recently the kid Ransom has undergone some changes in his hip-hop routine.
His longtime hip-hop partner-in-crime Hitch and him separated earlier this
year, ending the A-Team run for good. He may have lost his teammate, but he
didn't lose his focus.
Putting his energy into his individual efforts, the kid Ransom preps his
Presidential Beats/Desert Storm debut album with this all-exclusive mixtape.
Hosted by the Desert Storm owner DJ Clue? and The Kid Big Mike, this mixtape
features all-new and exclusive tracks and freestyles from one of New Jersey's
baddest up-and-coming rappers. This dude is NICE!

1 - Intro
2 - World Premiere (produced by Mayor & Ransom)
3 - Good N Evil (produced by Street Runner)
4 - Blood Money (produced by Ransom)
5 - Ladies & Gentlemen Feat. Fabolous (produced by Spectakular)
6 - Super Star Shit Feat. Magno & Kiotti (produced by Mayor)
7 - Just You & Me (produced by GMM)
8 - Shine (produced by Nel & Zurc)
9 - Whatya Hood Like Feat. Stack Bundles & Fabolous (produced by Nel)
10 - Soul 2 Keep (produced by Ransom)
11 - Pain & Glory (produced by Nova)
12 - Gift And A Curse Feat. Gravy (produced by BPM)
13 - Str8 2 Da Top (produced by Street Runner)
14 - Ransom Note Feat. Big Mike (produced by Info)
15 - Some Niggas (produced by Scram Jones)
16 - Pain (produced by Street Runner)
17 - Bonus Track
How To DOWNLOAD