Adrian Champion Presents - Stars&Stripes (The White Stripes Reimagined)
Submitted by mfizzel on Mon, 01/11/2010 - 1:50pm.
Remixes | Mixtape Torrents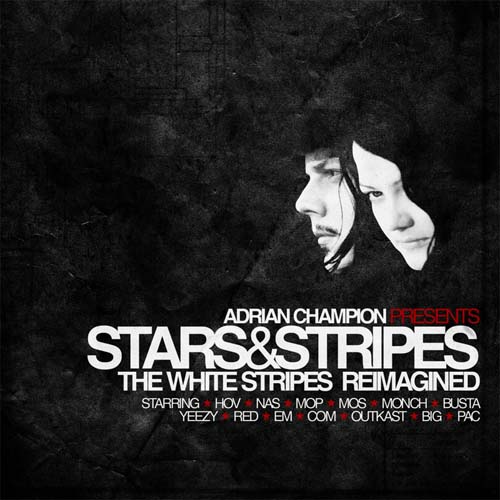 Hit the break for info on this project
I was late jumping on The White Stripes bandwagon. But, when I heard "Doorbell" a few years back I became an instant fan. That raw, classic sound was so fresh to me. I went straight to iTunes and downloaded the whole album. It wasn't long before I owned everything they'd ever released.
What really got me was that I wanted to sample almost every song. But, I couldn't just shamelessly sample their whole catalog. Plus, I had just decided to move away from sampling and focus on writing original music. So, a remix project seemed like the thing to do, and the idea was born.
I started digging through my collection and fitting all the pieces together. My goal was to use only samples from The White Stripes and a cappellas from classic songs and my favorite emcees. And of course, I had to rap on one of the tracks myself, with my man Brian Jacobs on the hook.
So there it is, hip-hop fans, meet The White Stripes.
Fans of The White Stripes, meet hip-hop.
— Adrian Champion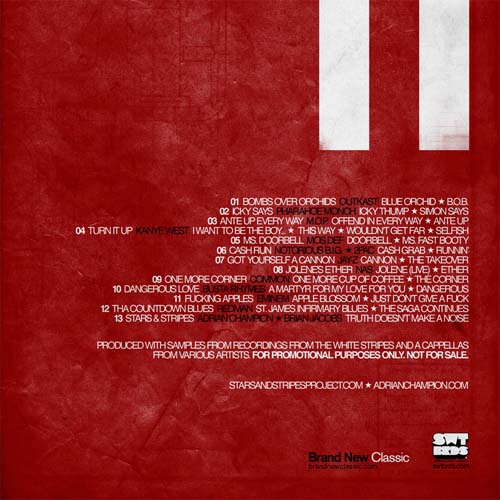 01 Bombs Over Orchids (The White Stripes + Outkast)
02 Icky Says (The White Stripes + Pharoahe Monch)
03 Ante Up Every Way (The White Stripes + M.O.P.)
04 Turn It Up (The White Stripes + Kanye West)
05 Ms. Doorbell (The White Stripes + Mos Def)
06 Cash Run (The White Stripes + Notorious B.I.G. & 2Pac)
07 Got Yourself A Cannon (The White Stripes + Jay-Z)
08 Jolene's Ether (The White Stripes + Nas)
09 One More Corner (The White Stripes + Common)
10 Dangerous Love (The White Stripes + Busta Rhymes)
11 Fucking Apples (The White Stripes + Eminem)
12 Tha Countdown Blues (The White Stripes + Redman)
13 Stars & Stripes (The White Stripes + Adrian Champion & Brian Jacobs)
How To DOWNLOAD