DJ Limelight & YBM - Young 'n's Bout Money 2 (The Come Back)
Submitted by hardb0dy on Fri, 01/04/2008 - 9:40am.
International | Mixtape Torrents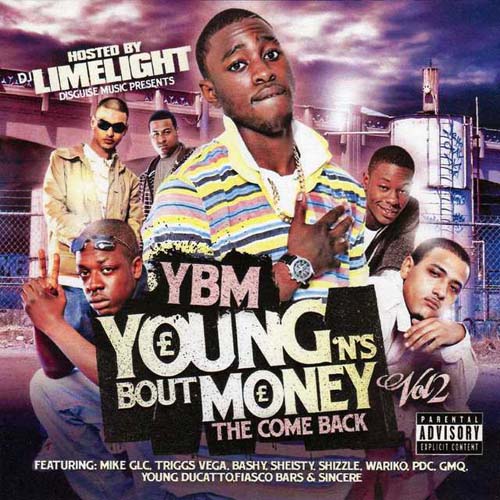 01. YBM - We're Back 03:52
02. YBM - Big Things Poppin (Ft. Young Ducatto, Mike GLC) 04:23
03. Propane, Sincere - Kiss FM Part 1 01:19
04. YBM - Imagine 01:40
05. YBM - Play About Rap 03:36
06. YBM - Sunshine (Ft. Fiasco Bars) 03:15
07. YBM - Where I'm From (Ft Triggs Vega) 03:38
08. YBM - Vandal Presents 05:43
(Ft. Bashy, Sheisty, Shizzle, Wariko, Propane)
09. YBM - Bang Bang (Ft. Jaja Soze, Naja Soze) 03:30
10. Propane, Sincere - Kiss FM Part 2 02:44
11. YBM - Mo' Money 03:12
12. YBM - London City (Ft. Triggs Vega) 02:49
13. YBM - Open Your Heart (Ft. Young Ducatto) 02:23
14. YBM - Family Link Up (Ft. GMQ) 04:38
15. Propane, Sincere - Kiss FM Part 3 04:05
16. YBM - Jacket So Soft 03:28
17. YBM - They Don't Know (Bonus Track) 03:31
18. YBM - Kronik (Bonus Track) 03:12
Young Blad Milita╓ London born & bred artists YBM aka Young Blad Militia are more
than a music collective or a group of kids rapping! Attuned to the language of a
British teenage world frustrated with MP╞s, a education system, they are a voice for
the streets that talk; about real life issues facing young men growing up in todays
society. Being together for 6 years has seen us overcome many obstacles in & outside
of music while gaining & losing members over the years but the official line-up is
KIDZ, NOUGZ, PROPANE, NAPALM, PASE, FRESHFACE, BASCO & DON.P with FLAMES working hard
behind the scenes.
Starting out in a Heartless Crew workshop we have been on many pirate stations such
as Y2k, Mystic and Heat to name a few. We've performed in venues all over London
including Camden Palace, Eq's, The Forum & Oceans plus done shows in Birmingham,
Bristol, Leeds, Reading & Manchester.
The end of 2004 saw us drop Napalm & Propane's "NOBODY REALLY KNOWS" on Channel U
which was followed by "EVERYDAY ON THE ROADS". We have dropped 3 more videos since
then - "KRONIK", "EVERYWHERE WE GO" which played on MTV BASE & most recently "WE
STAND TALL" Ft. PARIZ-1. Always building momentum to date we have worked alongside a
number of established and up & coming artists including Mike Glc, Skinnyman, Pdc,
Sms, Pariz-1, Street Dreams, Neeko, Kyza, Triggs Vega, Romain, Gully Gang, Big
Mighty, Flirta D & Singers Ny & Sky.
Right now the official Lp "Everyday On The Roads" is out now in all good shops as is
Propanes "Product Of My Environment" mixtape. We are currently putting the finishing
touches to the 1st official mixtape/Dvd "Young╞n╞s Bout Money" which should be out by
Jan/Feb 07. We're involved in a campaign called "Street Music" which Pdc have
started, other artists include Northstar, Nolay, Pariz-1, Sincere.
How To DOWNLOAD