Twista And The Mobstaz - Mike Love Presents: Mobb Town
Submitted by mfizzel on Tue, 11/29/2005 - 4:56pm.
Mixtape Directory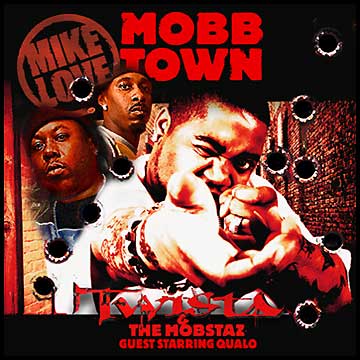 Mike Love, the king of Chicago hip - hop radio, teams up with fellow -
Windy City veteran Twista on this Mobb Town mixtape featuring the
fastest spittin' emcee his crew The Mobstaz. Also featuring appearan-
ces from well-respected Chicago underground talent Qualo, this is a
true Chi-Town masterpiece. Twista's best joints, remixes & freestyles.

1 - Mobsta Elite Intro
2 - Ride Bitch
3 - High Roller feat. Chicago Shawn of Qualo
4 - You A Customer feat. Preast of Qualo
5 - A Lil Bit
6 - My Homie feat. Optimyst of Qualo
7 - Twista Interlude
8 - Ride Wit Me
9 - We Got The Bomb
10 - Suck My Dick (screwed & chopped by Mike Love)
11 - All My People Say
12 - Knocked The Fuck Out Skit
13 - Knock A Bitch Nigga Out
14 - Lavish - Twista feat. Pharrell
15 - Stack Paper
16 - Twista Outro - lude
17 - Church Bus On The Move
18 - Church on The Move Outro feat. Bishop Don Magic Juan
BONUS TRACKS
19 - I Aint a Pimp (remix) Qualo feat. Twista
20 - Diamonds In My Watch Piece - Twista feat. David Banner
21 - Girl Tonight - Twista feat.Trey Songz
How To DOWNLOAD