Tapemasters Inc - The Inc Files 5
Submitted by mfizzel on Tue, 11/29/2005 - 12:12pm.
Mixtape Directory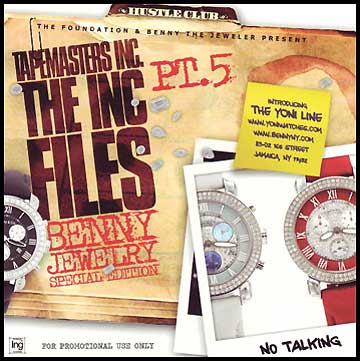 Tapemasters Inc returns with Part Five of the infamous Inc Files with
this Benny Jewelry special edition. This hip-hop mixtape is packed with
major gems, including a 1990 freestyle from Biggie in Bedstuy, BK + an
extended version of the Jay-Z & Jeezy joint and new heat from Bleek,
Freeway, NORE & Pharrell, ODB, Styles, Nas, Kanye, Freeway, Juelz.

1 - Tapemasters Inc. & Benny The Jeweler Intro
2 - NORE f. Pharrell - I'm A "G"
3 - Young Jeezy f. Jay-Z - Go Crazy RMX
4 - Lloyd Banks & Tony Yayo - This Is My City
5 - Memphis Bleek - Projects
6 - AC - Dope Pitcher
7 - ODB f. NORE - Dirty & Grimey
8 - The Game - Get Smashed
9 - The Notorious B.I.G. - Bedstuy Battle Freestyle (1990)
10 - Kanye West - Heard Him Say (Live From Millions More Movement)
11 - Styles P f. Akon - Can U Believe It (Prod. by Lil Jon)
12 - Lil Kim - Lighters Up
13 - AZ f. Ghostface & Raekwon - New York
14 - Fat Joe & Young Jeezy - Go Crazy Freestyle
15 - Freeway - Come Again
16 - Nas - Don't Body Yourself (Dissin' 50 Cent)
17 - Mobb Deep - Poppin Bottles
18 - Joe Budden Freestyle
19 - JR Writer f. Lil Wayne - Bird Call
20 - Hi Tek f. Talib Kweli, Snoop Doog & Slim Thug - Nati Streets
21 - Lupe Fiasco - Switch Freestyle
22 - Jim Jones f. Young Jeezy & Juelz Santana - Get Money
23 - Juelz Santana - There It Go (Whistle Song)
24 - Teairra Mari f. Kanye West & Jay-Z - Make Her Feel Good RMX
25 - Avant f. Lil Wayne & Jermaine Dupri - U Know What
26 - Tony Yayo f. Joe - Curious
27 - Twista f. Trey Songz - Girl Tonight
28 - Buggy f. Chris Brown - Run It RMX
How To DOWNLOAD