DNA - The Chain Remains: Rebirth Of A Dynasty
Submitted by mfizzel on Fri, 06/23/2006 - 12:33pm.
East Coast | DNA | Mixtape Torrents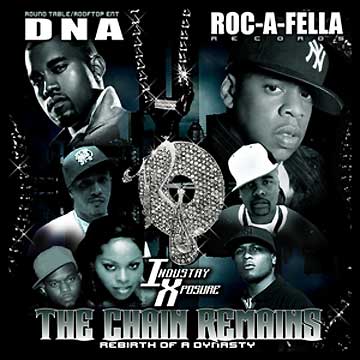 The Roc is definitely in the building. Back on this DNA mixtape,
the Dynasty is back in effect after a brief hiatus. After what
left some saying Hova led a coup over at the R.O.C., the Chain
Remains intact on this Roc-A-Fella-headlined joint.
For this special Industry Xposure mixtape, mixtape fans witness
the "Rebirth of a Dynasty" with a few new faces and a slew of
old ones over at Roc Familia headquarters, including their
newest signee, Foxy Brown.
This mixtape brings you through the R.O.C.'s All-Star lineup,
including a few unreleased tracks from the Boss. This mixtape
features 27 tracks and appearances from Freeway, Kanye West,
Peedi Peedi (aka. Peedi Crakk), Young Chris & Memphis Bleek.
Also featuring guest shots from Consequence, Ray Cash, Lil'
Wayne, Rick Ross, Project Pat, Pharrell & others.

1 - IX Intro: Memphis Bleek - The Diamond Is 4 Ever
2 - Memphis Bleek & Peedi Peedi - Ride Til It's Over
3 - Jay-Z, Young Jeezy, Lil' Wayne & Rick Ross - Hustle Real Hard (Hustlin' pt. 3)
4 - Young Chris feat. Jay-Z - Never Murder C
5 - Kanye West feat. Consequence - Grammy Family
6 - Peedi Peedi feat. Young Chris & The Notorious B.I.G. - Don't Stop
7 - Freeway feat. Lil' Jon - Rep Ya Click
8 - Jay-Z, Ray Cash, Pimp C, Project Pat & T.I. - Bumpin' My Music (remix)
9 - Young Chris - Live (produced by Swizz Beatz)
10 - Freeway & Young Chris - Death B4 Dishonor (Freestyle)
11 - Freeway feat. 50 Cent - Bang Bang
12 - Young Chris feat. Freeway - Now Or Never
13 - Kanye West, Three 6 Mafia & Project Pat - Side 2 Side (remix)
14 - Memphis Bleek - BK Bang
15 - Foxy Brown - Back In The Day
16 - Freeway & Lil' Wayne - Talk To The Canon
17 - Young Chris - Freestyle
18 - Foxy Brown - Rap Bible
19 - Kanye West - I See Now
20 - Kanye West - Ball Til We Fall
21 - Kanye West & Ne-Yo - Back Like That (remix)
22 - Kanye West & Pharrell - Number One
23 - Young Chris - Next Up
24 - Jay-Z - Live Freestyle [unreleased]
25 - Jay-Z feat. Nas & Notorious B.I.G. - The Best
26 - Jay-Z - I'm So Bossy [unreleased]
27 - Jay-Z feat. Trey Songz - Change Clothes (remix) [unreleased]
How To DOWNLOAD