Tapemasters Inc. - Too Short: Mack Or Die
Submitted by mfizzel on Thu, 07/20/2006 - 1:28pm.
Dirty South | Tapemasters Inc | Mixtape Torrents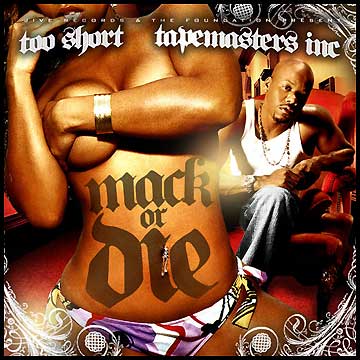 If you know a little bit about the Bay, you might know something about its pimp
game. The most famous pimp ever, Fillmore Slim, came from the Bay. But perhaps the
most famous Bay Area pimp didn't come from San Fracicso. He's from Oak Town.
His name is Todd Shaw but the world knows him by his pimp name, Too Short. Turns
out dude can spit a little bit more than game though.
More than 15 albums later — and with the 16th on the way (Up All Nite) — Tapemasters
Inc. are joined by the legendary pimp Too Short to give you a lesson. Call it a little
Pimpin' 101.

1 - Too Short Intro
2 - Blow The Whistle
3 - So Siddity feat. Daz, Kurupt & Lil' Jon [unreleased]
4 - You Can't Fuck With Us feat. Petey Pablo & Nore
5 - I Luv feat. Trick Daddy, Scarface & Daz
6 - Shake That Monkey feat. Lil Jon & The Eastside Boyz
7 - Big Booty Hoes feat. The Notorious Big
8 - Bust A Nut feat. Webbie & The Notorious Big [unreleased]
9 - Choosin' feat. Jagged Edge & Jazze Pha
10 - Six Figga Niggas feat. Jay-Z
11 - The World Is Filled feat. The Notorious Big & Diddy
12 - Keep It Real Hoe feat. Mobb Deep
13 - Money Maker feat. Rick Ross & Pimp C
14 - Who Needs A B feat. Bun B & Juvenile
15 - I'm A Pimp feat. 50 Cent, Bun B & Pimp C
16 - Take Your feat. David Banner, Bun B & Jazze Pha
17 - Bia Bia (Remix) feat. Lil Jon, Ludacris & Chyna White
18 - Gettin Some Head (Remix) feat. Shawnna
19 - Addicted To Pimpin' feat. Youngbloodz [unreleased]
20 - Tear It Up (Remix) Feat Young Jeezy & Lloyd
21 - Call Me feat. Lil Kim
22 - I'm Bossy feat. Kelis
23 - Finer Things feat. Scarface & Devin The Dude
24 - For Tha Hustlaz feat. 2pac
25 - Players Ball feat. E-40 & Jodeci
26 - Quit Hatin' feat. Lil' Jon & Twista
27 - Hotel feat. T.I.
28 - Get No Lower feat. Bonecrusher & Lil Jon
29 - N' Luv Wit A Stripper (Remix) feat. T-Pain
30 - Too Short Outro
How To DOWNLOAD