Superstar Jay, DJ Stunna & Nicki Minaj - The Barbie Diaries
Submitted by b14ck0u7 on Tue, 10/20/2009 - 8:18am.
General | Superstar Jay | Mixtape Torrents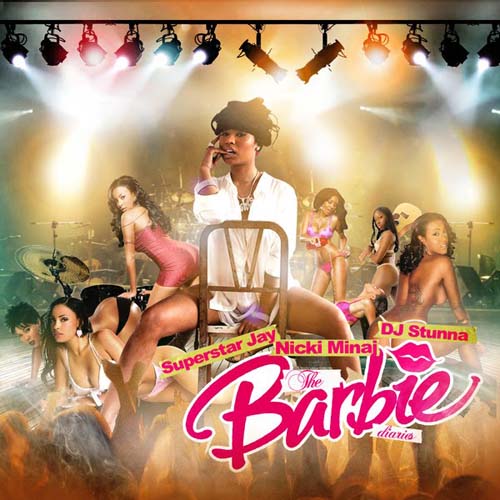 After making history with Remy Ma, Superstar Jay is representing for the ladies once again on a new project with Young Money's own Nicki Minaj A Exclusive Mixtape entitled 'The Barbie Diaries'. The hype around Nicki Minaj is at an all time high, so it was only right for her to link up with the best mixtape DJ in the game, Superstar Jay, and also Shadyville Own Dj Stunna Who work with Nicki Minaj in her early stages in career as she prepares for her first major album release through Young Money/Universal.
While working with and giving his hometown friend a chance on the critically acclaimed 'Set It Off' mixtape early in her career alongside Lil Kim, Remy Ma and Foxy Brown, Nicki Minaj began to light the streets on fire. Numerous mixtapes and records with some of hip hops hottest acts soon followed and Nicki Minaj was on her way to becoming one of the hottest females in the game.
Props to Sermon
1. Barbie Intro
2. Nicki Minaj Freestyle
3. Nicki Minaj- Bedrock Feat Lil Wayne Drake
4. Nicki Minaj- Getting Paid
5. Nicki Minaj Ft. Freestyle Feat Lil Wayne
6. Nicki Minaj- Dang A Lang
7. Nicki Minaj Ft. Lil Kim- Wanna Manaji
8. Nicki Minaj - Failure Feat Gucci Mane
9. Nicki Minaj 5 Star Chick
10. Nicki Minaj, Birds Feat Gucci, Oj Juiceman Young Joc
11. Nicki Minaj- Best I Eva Had
12. Nicki Minaj- Baddest Bitch
13. Nicki Minaj Freestyle Feat Lil Wayne
14 Nicki Minaj- Watch What U Say Feat Ru Spits Unrealeased
15. Nicki Minaj- I Get Crazzy Feat Lil Wayne
16. Nicki Minaj Kill The Dj
17. Nicki Minaj- Mario Ft. Gucci Mane, & Break Up Remix
18. Nicki Minaj- I Just Borrow Exclusive
19. Nicki Minaj- Dreams
20. Nicki Minaj- Warning
21. Nicki Minaj Interlude
22. Nicki Minaj- Cant Stop
23. Nicki Minaj, Ron Brownz- Strippin In Da Club
24. Nicki Minaj- Always Love You Feat Gudda Gudda
25. Nicki Minaj-Freestyle
26. Nicki Minaj Outro
How To DOWNLOAD