St. Laz - As Above So Below
Submitted by mfizzel on Sun, 04/24/2011 - 6:30am.
East Coast | Mixtape Torrents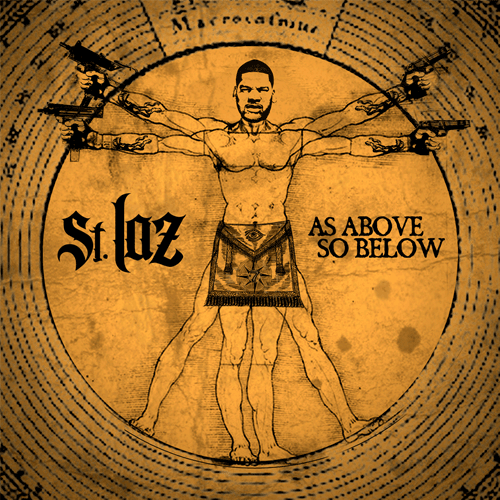 Here goes St. Laz's newest street album As Above So Below, with 20 brand new tracks featuring the likes of Agallah, 40 Cal, Louie Ville Sluggah, Young Tef & more! Hit the break for the video & more info.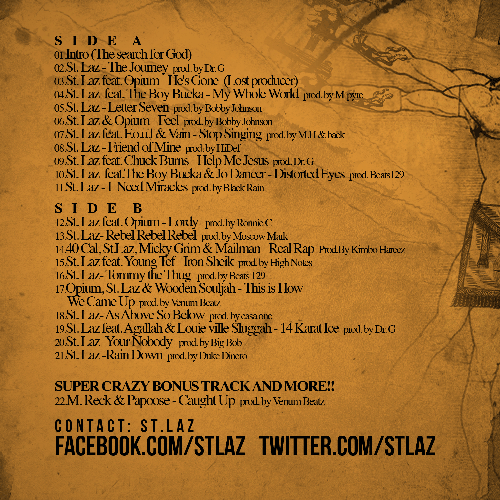 01.Kalid Intro
02.St.Laz - The Journey Prod. Dr.G_
03.St. Laz Feat. Opium - He's Gone Prod. By__
04.St. Laz Feat. The Boy Bucka - My Whole World Prod. By M-Pyre
05.St. Laz- Letter Seven Prod. By Bobby Johnson
06.St. Laz & Opium - Feel Prod. By Bobby Johson
07-St. Laz , F.O.U.L & Vain - Stop Singing Prod. By M.H & Back_
08.St. Laz-Friend Of Mine Prod. By Hidef
09..St. Laz Feat. Chuck Burns - Help Me Jesus Prod. Help Me Jesus
10.St. Laz , The Boy Bucka & Jo Dancer - Distorted Eyes Prod. Beats129_
11.St. Laz- I Need Miracles Prod. By Black Rain
12.St. Laz Feat. Opium - Lordy Prod. By Ronnie C_
13.St. Laz- Rebel Rebel Rebel Prod. By Moscow Mark
14.40 Cal, St.Laz, Micky Grim & Mailman - Real Rap Prod.By Kimbo Hareez
15.St. Laz Feat. Young Tef - Iron Sheik Prod. By High Notes
16.St. Laz- Tommy The Thug Prod. By Beats 129
17.Opium , St. Laz & Wooden Souljah - This Is How We Came Up Prod. By Venum_
18.St.Laz-As Above So Below Prod. By Casa One (Dirty Master)___
19.St. Laz Feat. Agallah & Louie Ville Sluggah - 14 Karat Ice Prod. By Dr.G___
20..St. Laz- Your Nobody Prod. By Big Bob_
21.St. Laz -Rain Down Prod. By Duke Dinero___
22.M.Reck & Papoose - Caught Up Prod. By Venum
23.Hidden Track
How To DOWNLOAD