Kanye West , Lupe Fiasco & Pharrell - Rebel Music (Hosted By N.E.R.D.)
Submitted by hardb0dy on Sat, 07/05/2008 - 4:11pm.
General | Mixtape Torrents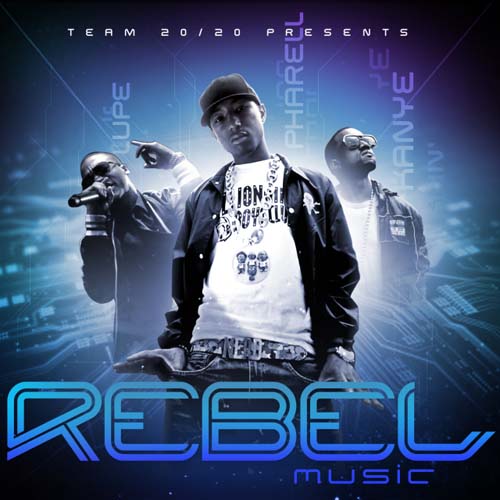 Bringing you a musical experience like no other, this CD is standing at the
forefront of hip-hop's move (back) to dope lyrics and beats: Lupe, Kanyeezy
and the Ice Cream Man Pharell stood tall on the Glow In The Dark Tour, as
well as their upcoming conceptual project C.R.S.
Dub and Floyd combine forces as Team 20/20 to bring you remixes, blends,
classics and new joints as only they can. Hosted by N.E.R.D., you'll get
insight about how CRS came about, what's coming next and more.
01 - TEAM 20-20 - INTRO.mp3 1.35 MB
02 - TEAM 20-20 - KANYE WEST - TOUCH THE SKY (DUB FLOYD SCREAMIXX).mp3 700.86 kB
03 - TEAM 20-20 - CRS - SKY HIGH GRADUATES (DUB FLOYD SCREAMIXX).mp3 2.78 MB
04 - TEAM 20-20 - KANYE WEST - STRONGER (GUMBY DUB MIX).mp3 4.80 MB
05 - TEAM 20-20 - LUPE FIASCO - DOPEBOY.mp3 1.15 MB
06 - TEAM 20-20 - PHARELL - THE CLIPSE - JUSTIN TIMBERLAKE - US NOT YOU (DUB FLOYD S.mp3 2.82 MB
07 - TEAM 20-20 - LUPE FIASCO - KICK PUSH (SCOUNDREL DUB MIX).mp3 3.15 MB
08 - TEAM 20-20 - KANYE WEST - REALLY DOE - PLASTIC.mp3 1.32 MB
09 - TEAM 20-20 - RESURFACING INTERLUDE - N.E.R.D.mp3 2.45 MB
10 - TEAM 20-20 - EVERYBODY NOSE (REMIX) - N.E.R.D. - LUPE FIASCO - KANYE WEST.mp3 3.31 MB
11 - TEAM 20-20 - PHARELL - KANYE WEST - NUMBER ONE (YAYO DUB MIX).mp3 3.39 MB
12 - TEAM 20-20 - N.E.R.D. - COMMON - MOS DEF - Q-TIP - SHE WANTS TO MOVE (DUB FLOYD.mp3 2.43 MB
13 - TEAM 20-20 - KANYE WEST - ESTELLE - AMERICAN BOY (PASSPORT DUB MIX).mp3 3.18 MB
14 - TEAM 20-20 - PHARELL - JAY-Z - FRONTIN (DUB FLOYD SCREAMIXX).mp3 3.20 MB
15 - TEAM 20-20 - LUPE FIASCO - THE COMMERCIAL.mp3 2.56 MB
16 - TEAM 20-20 - KANYE WEST - PHARELL - FUNKY CHILDREN (UNDERGROUND DUB MIX).mp3 2.28 MB
17 - TEAM 20-20 - STOMPING INTERLUDE - N.E.R.D.mp3 2.84 MB
18 - TEAM 20-20 - KANYE WEST - PHARRELL - LUPE FIASCO - US PLACERS.mp3 3.52 MB
19 - TEAM 20-20 - LUPE FIASCO - PARIS TOKYO (COMPLEXION DUB MIX).mp3 2.39 MB
20 - TEAM 20-20 - KANYE WEST - JAY-Z - PHARELL - T-PAIN - KNOW THE LIFE (HERON DUB M.mp3 2.52 MB
21 - TEAM 20-20 - KANYE WEST - TALIB KWELI - FLASHING LIGHTS (DUB FLOYD SCREAMIXX).mp3 2.27 MB
22 - TEAM 20-20 - LUPE FIASCO - Q-TIP - BUSTA RHYMES - I GOTCHA (AKKI DUB MIX).mp3 2.97 MB
23 - TEAM 20-20 - PHARELL - SAIGON - JADAKISS - SWAGGER INTERNATIONAL (EMBARGO DUB M.mp3 3.67 MB
24 - TEAM 20-20 - KANYE WEST - HEAVY HITTERS (DORSAL DUB MIX).mp3 1.55 MB
25 - TEAM 20-20 - PHARELL - SNOOP DOGG- THAT GIRL (COOKIN SOUL REMIX).mp3 1.56 MB
26 - TEAM 20-20 - KANYE WEST - CONSEQUENCE - JAY-Z - SO SOULFUL (DUB FLOYD SCREAMIXX.mp3 2.65 MB
27 - TEAM 20-20 - LUPE FIASCO - COLD WORLD.mp3 1.82 MB
28 - TEAM 20-20 - KANYE WEST - SUMMERJAM FREESTYLE.mp3 1.18 MB
29 - TEAM 20-20 - AC - ONE UP (BONUS DRAFT PICK).mp3 2.28 MB
30 - TEAM 20-20 - SOBRIETY OUTRO - N.E.R.D.mp3 1.17 MB
How To DOWNLOAD