Raekwon - The DaVinci Code: The Vatican Mixtape, Vol. 2
Submitted by mfizzel on Wed, 07/12/2006 - 8:20pm.
East Coast | Mixtape Torrents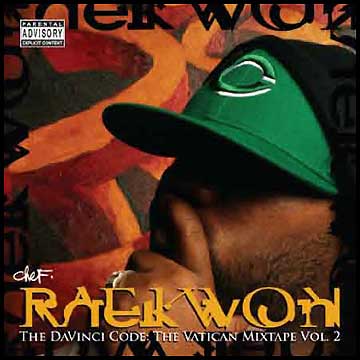 One of the sharpest swords the Wu-Tang has ever known, Raekwon 'The Chef' is back in classic Wu fashion taking you on the lyrical high he is known for producing. Featuring outstanding guest shots from Busta Rhymes, AZ, Ghostface Killah, Nas, GZA and RZA, Raekwon aka Lex Diamonds is fully supported on this CD. Stick up kids, corrupt cops, and crack rocks are the three most relevant topics throughout, so if you are looking for that East Coast gangsta music, The Davinci Code: The Vatican Vol. 2 is the jump-off to jump on.

1 - King Of New York (Skit)
2 - Flawless Crowns
3 - Run (Freestlye)
4 - Rakim Tribute
5 - Skit
6 - Rap Killers
7 - Fly Shawty Penelope
8 - Brown Paper Bag
9 - Triumph Freestyle
10 - Treasurers
11 - Own My Mind
12 - New York!! feat. AZ & Ghostface Killah
13 - What's Goin' On
14 - Dangerous
15 - Skit
16 - Range Rover feat. RZA
17 - GZA Shit
18 - Counterfittin'
19 - Brother's Keeper feat. Nas
20 - State Of Grace (Spanish Version) feat. Busta Rhymes
21 - Rover Sport
22 - Skit
23 - Real Ain't Real
How To DOWNLOAD