Mick Boogie, DJ Benzi, DJ Neoteric - Motivation Pt 2 (Hosted By Lil Jon)
Submitted by mfizzel on Wed, 09/24/2008 - 7:13pm.
General | Mick Boogie | Mixtape Torrents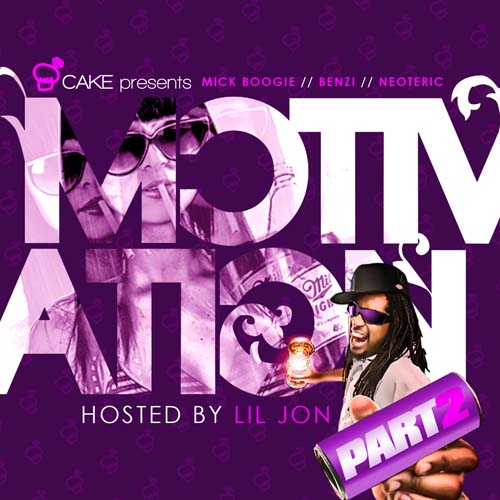 The long awaited project with Lil Jon is finally ready! This follow-up to motviation from earlier this year with Fatman Scoop reunites Benzi with Mick Boogie and introduces DJ Neoteric to the mix! Motivation 2 is presented by Cake Clothing and is jam packed with over 50 joints and is flawlessly mixed back to front!
001. Lil Jon "Introduction"
002. Biggie Smalls "Juicy (Benzi Refix)"
003. Pitbull & Lil Jon "Krazy"
004. Felli Fel, Ludacris, & Akon "Buck In Here (Villians Remix)"
005. T-Pain "Can't Believe It (B-Flat Remix)"
006. Chromeo "Fancy Footwork (Crookers Remix)"
007. ATB "Til I Come"
008. David Guetta "Love Is Gone (Mano Remix)"
009. Donnis "Party Works (1 Fish 2 Fish Remix)"
010. Kid Cudi "Day N Nite (B-Flat Remix)"
011. Nacho Lovers "Acid Life"
012. Marvin Gaye "Give it Up (Sizzahands Remix)"
013. Prince "1999 (Rock-It Scientists Remix)"
014. Steve Angello & Laidback Luke "Be (Riz Remix)"
015. Paul Johnson "She Got Me On (Neoteric Edit)"
016. Skepta "Rolex Sweep"
017. Bangers & Cash "Digital Pussy (Kid Color Remix)"
018. The Supremes "Keep Hangin On (Emynd Remix)"
019. John Legend & Andre 3000 "Green Light (Diplo Remix)"
020. Thunderheist "Jerk It (Nacho Lovers Remix)"
021. Surkin & Chromeo "Chrome Knight"
022. Tag Team & Jay-Z "Whoomp There It Is (League Crew Remix)"
023. EPMD "Run It (Sinden Remix)"
024. Thundercatz "3am (Klever Remix)"
025. Busta Rhymes & Chic "Dancing King (Terry Urban Remix)"
026. Treasure Fingers & 6th Sense "Cross The Dancefloor (Curses Remix)"
027. Jelani "Let's Dance (Durkin Remix)"
028. Kickdrums & Prydz "Love Is A Drug (Apt One Remix)"
029 Mstrkrft & Marky "Bounce (Mansion Remix)"
030. Fly Union "Jackin My Fresh (Mick Boogie Mix)"
031. Idle Warship "Steady"
032. Kardinal Offishall & JDavey "Digital Motown"
033. Kanye West "Homecoming (Discotech Remix)"
034. Fully Fitted "Roll It"
035. Fake Blood "Mars (Player Player Remix)"
036. The-Dream "I Luv Your Girl (Chaise Remix)"
037. Goldrocc & Svelt St. "The Right Way"
038. Rye Rye & Krames "Get Familar"
039. Will.I.Am & Kanye West "Impatient Boy (Benzi Refix)"
040. Clipse "Fast Life (Bird Peterson Remix)"
041. Clipse "When The Last Time (Risk One Remix)"
042. Busta Rhymes & Pharrell "Light Your Ass (Switch Remix)"
043. Earth Wind & Fire "Groove Tonight (Redhead Kingpin & The FBI Remix)"
044. Pilot "Magic (Mykill Remix)"
045. Lord Tariq & Peter Gunz "Deja Vu (Bomberman Remix)"
046. DJ Kool "Keep Making Noise (Nadastorm Remix)"
047. Smoke & Mirrors "Insane"
048. Trackademiks "Enjoy What You Do (Flosstradamus Remix)"
049. Tittsworth & The Federation "Drunk As What (Top Billin Remix)"
050. Enur "Calabria (Deeq Remix)"
051. Groove Armada "Get Down"
052. Bel Biv Devoe "Poison (Gant-man Remix)"
053. 504 Boyz "I Can Tell (Top Billin Remix)"
054. Lil Wayne "The Beat Build (Bird Peterson Remix)"
055. Lil Jon "Outroduction"
How To DOWNLOAD