J. Period & Complex - G.O.O.D. Music: The Class Of '06 Mixtape (Hosted By Kanye West)
Submitted by mfizzel on Fri, 03/31/2006 - 8:21am.
Mixtape Directory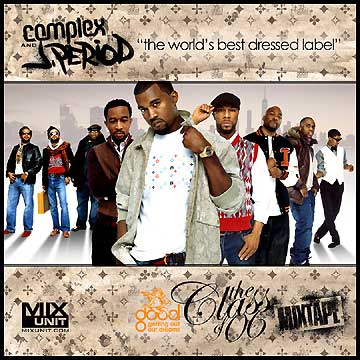 DJ J. Period (named a top 10 mixtape DJ by The Source and MTV) is
down with Kanye West (he dee-jayed 'Ye's famous '06 Grammy party).
So when Kanye needed to show the streets his 2006 line-up over at his
G.O.O.D. music label, he called on J. This mixtape features brand new/
exclusive Kanye, Common, GLC, Consequence, Mr. Bently and Sa-Ra.

1 - J. Period - G.O.O.D. Music Takeover Intro
2 - Common - The Movement
3 - Sa-Ra - Hollywood
4 - Consequence - Cut That Out (I Had The Beat First)
5 - Consequence - Do What We Do
6 - Common & Kanye West - Corners (Back II Basics remix)
7 - Common & Consequence - They Say (remix)
8 - Consequence - Do The Math Freestyle
9 - GLC - (Getting Out My) Dreams Freestyle
10 - Common & Kanye West - Corners
11 - Mr. Bently - Laid Back
12 - Kanye West - Get 'Em High (J.Period remix)
13 - Common - Get 'Em High (J.Period remix)
14 - Common - Testify
15 - Kanye West & Consequence - Hold On (remix)
16 - Kanye West & Consequence - Gone
17 - Consequence & Kanye West - The Good, The Bad, The Ugly
18 - Common - Sunshine/6th Sense (J. Period remix)
19 - J. Period - Beats By Kanye-O Interlude
20 - Common, Kanye West & Consequence - Wack Niggaz
21 - Common - Jesus Walks (remix)
22 - Common - My Way Home
23 - Consequence - My Way Home
24 - Kanye West & GLC feat. Paul Wall - Drive Slow
25 - GLC - Chi State Of Mind a
26 - GLC feat. Three Six Mafia - Clap Yo Hands
27 - GLC - Stay Fly (From The Chi) Freestyle
28 - GLC - Kryptonite Freestyle
29 - Complex Magazine Interlude (produced by Sa-Ra)
30 - Sa-Ra - Star Warz
31 - Liftoff Interlude
32 - Kanye West, GLC & Consequence - Spaceship
Props PLAT1NUM
How To DOWNLOAD