J-Love: In Memory of Big L Vol. 2
Submitted by mfizzel on Mon, 12/05/2005 - 11:15am.
Mixtape Directory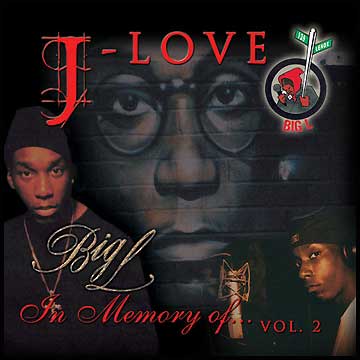 J-Love pays tribute to one of the game's illest emcees, the late Big L,
an M.V.P. up from 139th & Lenox in Harlem - renowned for his clever,
slick rhymestyle Big L is sorely missed. J-Love celebrates his career
with 29 tracks, including classics from his 2 albums & unreleased tracks.

1 - Rest In Peace
2 - Once Again [produced by J-Love]
3 - Bring 'Em Back [original version]
4 - Big L & Lord Finesse Interlude
5 - Yes, You May (remix) feat. Lord Finesse
6 - Put It On feat. Kid Capri
7 - Let 'Em Have It L
8 - Graveyard feat. Lord Finesse & Jay-Z
9 - Devil's Song
10 - Dignified Soldiers feat. D.I.T.C.
11 - Dangerous feat. O.C.
12 - Internationally Known feat. D.I.T.C.
13 - Uptown Connection feat. Mase
14 - American Dream feat. Children of the Corn (Mase, Cam'ron, McGruff & Bloodshed)
15 - Watch Your Back feat. Cam'ron & Bloodshed
16 - How Will I Make It
17 - Furious Anger feat. Shyheim
18 - Double Up feat. Kool G Rap & Royal Flush
19 - Big Picture
20 - Flamboyant
21 - Deadly Combination feat. Notorious B.I.G. & 2pac
22 - Enemy
23 - Times Iz Hard
24 - School Daze
25 - Unexpected Flava
26 - Should Have Used A Rubber
27 - Day One feat. D.I.T.C.
28 - Street Struck
29 - Big L Outro
How To DOWNLOAD