Hoodlife Cyphas Vol 9 (DVD)
Submitted by pkrhymes on Tue, 10/13/2009 - 4:13pm.
General | Mixtape Torrents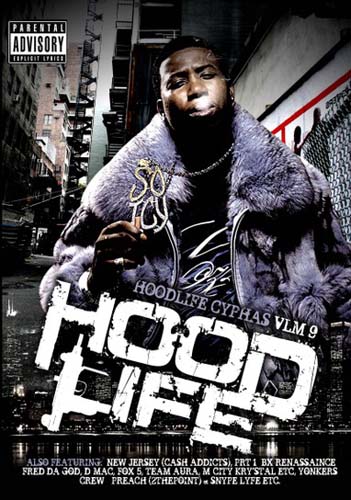 Download VLC Media Player (Free) to watch this DVD
To celebrate the hoodlife dvd collections being added to the cornerstore.. The boss terrell blair has ok'd a free treat for yall.. A free hoodlife cyphas volume 9 dvd download featuring exclusives from gucci mane, cassidy beenie seigel, snyp lyfe and many many more
Included is some of the rawest street footage and intense interviews! Included are over 60 minutes of great interviews from cassidy, beanie siegel, freeway, gucci mane, dj drama, spider locc, and more. Also included is a taste of what the streets have to offer regarding upcoming artists. Fred da god talks about how he, fox 5, streets da god, as well as other artists such as preach & synpe life from yonkers, have a lot to offer. Beware of the rap battle with streets da god vs. Streetso. You will definitely be thirsting for more!
Fierce rap battles and performances by street da god, streetso, and others punctuate a slew of interviews with the likes of beanie siegel, freeway, cassidy, gucci mane, dj drama, and spider locc. Viewers will also get a look at plenty of intense street footage featuring the hottest up-and-comers.
How To DOWNLOAD