Eminem Remarries Ex-Wife Kim
Submitted by mfizzel on Sun, 01/15/2006 - 8:59pm.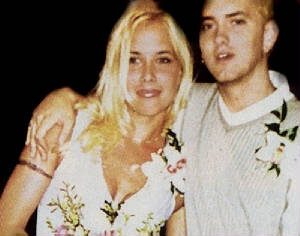 Would the real Slim Shady please kiss the bride?
A month after telling a Detroit radio station he was back together with ex-wife Kim Mathers, Eminem remarried his high school sweetheart Saturday in an intimate ceremony at Meadow Brook Hall, a 110-room mansion located in Rochester, Michigan.
"Family and close friends were in attendance, including members of D12, 50 Cent, Obie Trice and members of G-Unit," Em's publicist, Dennis Dennehy said. The rapper's hype man, D12 rapper Proof, served as best man.
Eminem and Kim arrived by limousine as news helicopters flew above and paparazzi flocked around them. Dennehy said that New York DJ Lord Sear entertained at the reception as lobster tails and filet mignon were served. The couple will take their honeymoon later this year.
Eminem ended the couple's first marriage after two years in October 2001, and launched a legal fight for custody over their young daughter, Haylie Jade.
Kim, who has been the unflattering subject of violent songs like "Kim" on The Marshall Mathers LP, in which Em rapped about killing his wife, attempted suicide in the couple's home in 2000 following a hometown concert by the rapper at the Palace of Auburn Hills and was arrested on drug charges in 2003.
The rapper, 33, and his ex, 30, reconciled last year, before Em's announcement last month on WKQI-FM's "Mojo in the Morning".
Reported by www.MTV.com
How To DOWNLOAD