Dub MD & Access Immortal Presents The Scrapbook Vol. 1
Submitted by mfizzel on Tue, 03/10/2009 - 8:42am.
East Coast | Mixtape Torrents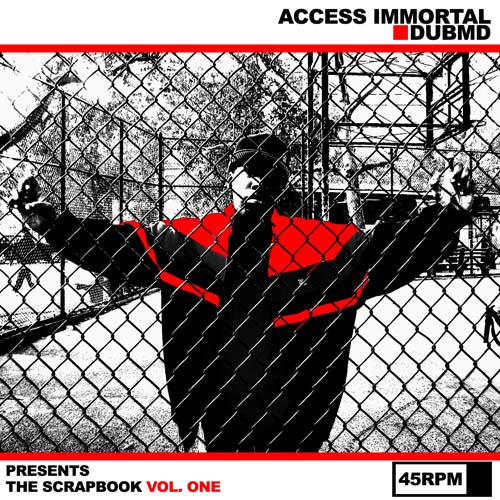 In preparation for Access Immortal up and coming new collaboration album with DJ Ruckspin, he joins forces with Dub MD to present you with this exclusive free compilation entitled "The Scrapbook: Volume 1" a collection of tracks from the past, present and future. This new mixtape features collaborations with Karniege, Medinah Starr, Oktober, Golden Child, Mello and Emaze, along with production from Ruckspin, 9th Wonder, Vanderslice, J-Zone, The Wisemen and many more. If your a fan of that classic 90's style New York boom bap, your gonna love this one!
Brooklyn born Access Immortal and DJ Ruckspin are on the verge of releasing their debut as the newly formed duo Project Gotham as they prepare to release the new album "Birth Of A Dream", which is due to hit shelves sometime this Spring 2009 via indie imprint Introspect Records. The new album features the likes of Vast Aire, Karniege, SiLent Knight, Fresh Daily, C-Rayz Walz, Poison Pen just to name a few, with 100% of the production handled by Ruckspin, so make sure you pick up 5 copies!
01.) The Scrapbook (Intro)
02.) The General (Produced By 7L)
03.) Ring The Album (feat. Golden Child) (Produced By Ruckspin)
04.) Monday Night Raw (Produced By J-Zone)
05.) Everything I Know (Produced By Ruckspin)
06.) Fuck The Rap Game (Produced By Access Immortal)
07.) Welcome To The Hood (Produced By GreenSteez)
08.) Culture Shock (Produced By Ruckspin)
09.) Styles Upon Styles (feat Karniege & Medinah Starr) (Produced By Nygh)
10.) Acc The Villian (Produced By Ruckspin)
11.) Days Go By (Produced By 9th Wonder)
12.) The Reign (feat. Oktober) (Produced By GreenSteez)
13.) Million Dollar Rapper (Produced By The Wisemen)
14.) I Will Not Lose (Produced By Lawz Spoken)
15.) The Mechanic (feat. Mello & Emaze) (Produced By Alchemist)
16.) Resident Evil (Produced By Vanderslice)
17.) The People (feat. Medinah Star) (Produced By Kanye West)
18.) M.V.P. (Freestyle) (Produced By DJ Premier)
19.) DJ BMV (Freestyle) (Produced By Pete Rock)
20.) New York (feat. Ph7) (Produced By Ph7)
21.) The Scrapbook (Outro)
How To DOWNLOAD