DJ Whoo Kid - Spider Loc: G-Unit Radio 18: Rags To Riches
Submitted by mfizzel on Tue, 04/11/2006 - 5:57am.
Mixtape Directory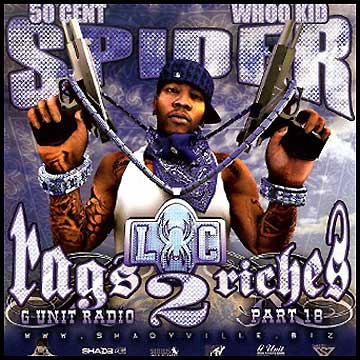 Props KDshortkid

DJ Whoo Kid brings the much-anticipated G-Unit West official mixtape
introduction of G-Unit's west coast rider Spider Loc. Coming live from
the 'City of Angels' this ill mixtape features the hottest verses, freestyles,
remixes, tracks & classics from the G-Unit Crip and leader of G-Unit West
+ cameos by 50 Cent/G-Unit, Ras Kass, Cartoon, Snoopy Blue, Big Syke.

1 - Spider Loc - Your Crew Is Featherwieght
2 - Spider Loc feat. Young Buck - No More Games (Dissin' The Game)
3 - Mobb Deep - Put 'Em In They Place
4 - Spider Loc feat. Ras Kass - Too Much Money
5 - Spider Loc - Every Day Gettin' Bread
6 - Spider Loc - Goin 4 Da Millians
7 - Spider Loc feat. 50 Cent - L.A. Niggas [produced by Da Riffs]
8 - Spider Loc - G-Unot Killa
9 - Spider Loc feat. Cartoon (R.I.P.) - Get This Doe
10 - Spider Loc - Why You Actin' Like A Hoe
11 - Spider Loc feat. Snoopy Blue - Bitch Ass Niggas
12 - Spider Loc - This Crip Cuz
13 - Spider Loc - Business As Usual
14 - Spider Loc feat. Big Syke - All Eyes On Us
15 - Spider Loc - 'F' The Haters
16 - Spider Loc - Bitch Boy
17 - DJ Whoo Kid Outro
How To DOWNLOAD