DJ Whoo Kid, Clinton Sparks, Konkrete Kaos & Red Cafe: Hennessy & Haze
Submitted by mfizzel on Sun, 03/19/2006 - 7:52am.
General | DJ Whoo Kid | Mixtape Torrents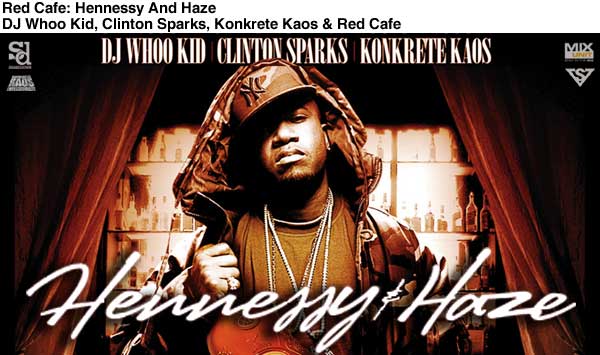 Red Cafe brings you a little something for the jeeps, the radio and the streets with this new Shakedown mixtape featuring all-exclusive new material from the Brooklyn mixtape heavyweight. With "Chef Boy Iz-R" getting ready for his Capitol Records debut Rated R due out later in 2006.
With fellow mixtape heavyweights DJ Whoo Kid, Clinton Sparks & Konkrete Kaos teaming up with the Brooklyn-bred Arm & Hammer Man to hit you with a little Bling BLAOW, you know this mixtape is nothing but straight heat. Signed to Mack 10's Hoo-Bangin' imprint on Capitol Records, this mixtape has a coastal theme, bringing that "flow like Biggie left eye: lazy" to some hard-hitting production. With Red Cafe already a staple in the mixtape game (thanks to past mixtapes like Shakedown Pre-Game and Weed, Keys & CDs), this mixtape and upcoming album take the BK-MC from coast to coast.
This all-exclusive mixtape serves as the official mixtape prelude to his anticipated debut Rated R and fittingly gives you a handful of joints to get a taste for what's to come. This mixtape also serves the streets with a round of all-new freestyles, tracks, remixes and street anthems from Red Cafe.
1. Red Cafe Speaks
2. Red Cafe - Hennessy & Haze Intro
3. Red Cafe - Showtime [SAMPLE]
4. Red Cafe - Napalm
5. Red Cafe - U Don't Know Me
6. Red Cafe feat. Tito - Never Been
7. Red Cafe - Same Ol' G
8. Red Cafe feat. Tito - Get Well Soon
9. Red Cafe - Cadillac
10. Red Cafe feat. Fabolous & Paul Wall - Jeep Shit (Bling Bloaw II)
11. Red Cafe - Deadly [SAMPLE]
12. Red Cafe feat. P.T., String & Tito - You Strapped
13. Red Cafe feat. Razah - Each & Every Hood
14. Red Cafe - Get 'Em
15. Red Cafe - Getting Some Head
16. Red Cafe feat. Cormega - BQE
17. Red Cafe feat. Tito - Imma Ho [SAMPLE]
18. Red Cafe - Consignment
19. Red Cafe - Da Truth
20. Red Cafe - From Da K
21. Tito - Boo
22. Red Cafe - Calm Down
23. Red Cafe feat. P.T., Young Soprano & Tito - Backshot Queen
24. Red Cafe - Shottas
25. Red Cafe - Draped Up
26. Red Cafe - Hennessy & Haze Outro
How To DOWNLOAD