DJ Vlad "The Butcher" - Beef III Mixtape Part 2
Submitted by mfizzel on Wed, 03/01/2006 - 1:52pm.
Mixtape Directory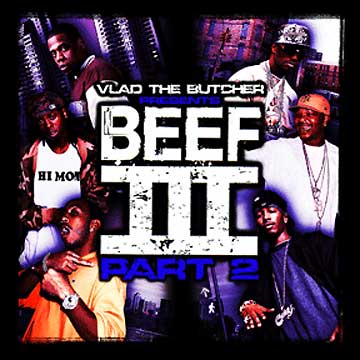 DJ Vlad "The Butcher" launches the Beef III official mixtape series on
behalf of QD3. Following up the hugely successful hip-hop beef DVD
series, this mixtape gives you all the latest beef & drama in hip-hop,
with many of these disses coming directly from mixtapes. This CD is
full of disses from Cam'ron, B.G., Lil' Wayne, DTP, DMX and Balance.

1 - Beef III Intro
2 - Cam'ron Speaks on Jay-Z Beef
3 - Cam'ron - You Got It (Dissin' Jay-Z)
4 - Jay-Z - I'm Not A Writer, I'm A Biter
5 - Cam'ron - I Don't Write Shit
6 - B.G. - Gimme A Break (Dissin' Baby)
7 - Beef III Interlude: Twista Always Gets Robbed
8 - B.G. - Triggaman (Dissin' Lil' Wayne)
9 - Drag-On - Wallah (Dissin' Lil' Wayne)
10 - DMX (Dissin' Def Jam)
11 - D.T.P. (Ludacris, I-20, Lil Fate) - Real Niggaz (Dissin' Chingy)
12 - Buffie The Body vs. Charlamegne The God
13 - ESG - Games (Dissin' Slim Thug)
14 - Beef III Interlude: Rappers & Bodyguards
15 - Clyde Carson (The Team) - 32 Bars of Clarity (Dissin' Balance)
16 - Balance, EA-Ski - It Is What It Is (Dissin' Clyde Carson)
UNSIGNED HEAT
17 - Jokaman - MVP
18 - HD - Slamdance
19 - 54th Regiment - Jersey
20 - J-Dia f. Styles P - I Won't Tell
21 - Ron G - Brim Cocked
How To DOWNLOAD