DJ St. Kittz & D'Brown - Where I Left Off (The Pre-Swag Mixtape)
Submitted by mfizzel on Mon, 12/15/2008 - 10:16am.
General | Mixtape Torrents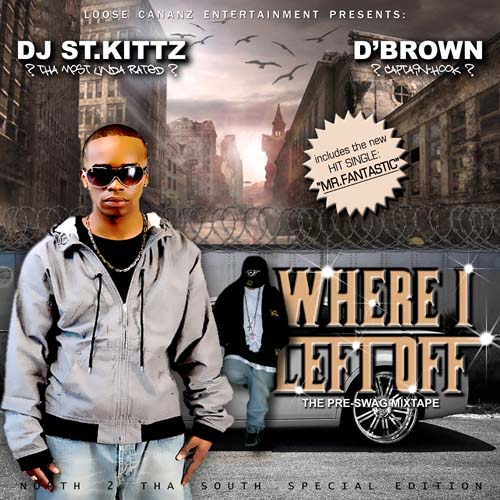 From the email:
D'Brown is an up and coming artist from Toronto,Canada. He has done previous
work with Capone (Capone N Norega) & Juelz Santana. His current hit single
"Mr.Fantastic" has hit the charts across various internet websites, and his
myspace page sees plays anywhere from 150 - 300 on daily basis.
DJ St.Kittz was the producer behind former Three-6-Mafia member, Lord Infamous,
hit single "Frosty" which appeared on the album "the Man, the Myth, the Legacy".
St.Kittz also has prduction credits on Lord Infamous upcoming album "After Sicx"
to be released in January 2009.
For more details visit:
myspace.com/adbrownsong
myspace.com/stkittz
01_Intro
02_100_Bars_Of_Truth_(Freestyle)
03_I_Get_Money_(Freestyle)
04_Beat_It_Up
05_Mr.Fantastic
06_Toronto_2_Bk_(Freestyle)
07_Victim_(Freestyle)
08_Holla_At_Me
09_Spydamane
10_Interlude
11_Pilsbury
12_Enough_Of_You
13_18_Or_Older
14_Watching_Me
15_Li-Like_This
16_Riding_With_Me
17_What's_Good,_What's_Up
18_Cook_That
19_All_I_Know
20_What_U_Talking_Bout_(Exclusive)
21_Gangsta_Love_(Throwback)
22_Touch_Me
23_A_Song
How To DOWNLOAD