DJ Scream - The Project Pat Collective
Submitted by mfizzel on Wed, 06/21/2006 - 5:39am.
Dirty South | DJ Scream | Mixtape Torrents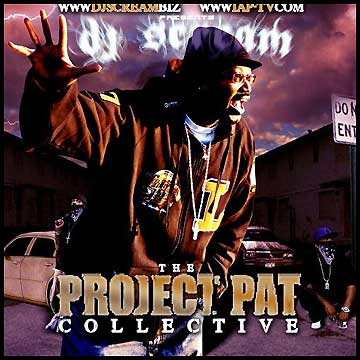 Welcome Home Pat!
But get back in the lab soon!! The fans are begging for new music but in the
meantime, they'll have to sip on this DJ Scream mixtape paying tribute to
Memphis' rap legend Project Pat.
The older brother of Three-6-Mafia producer Juicy J, Pat gets his name from his
old stomping grounds, the Cypress Gardens Projects. With this Hypnotized Camp
Posse member back from the pen after serving a four-year stint, his fans welcome
him back with open arms.
This mixtape is a classic mixtape compiled from Project Pat favorites from
his handful of releases and countless studio sessions. With his single "Great Googly Moogly"
tearing up speakers nationwide, fans have something to listen to as they wait
for his forthcoming Crook By The Book: Fed Story off Columbia Records. Also
look for his new single "Tell" featuring Young Jeezy & Lyfe.

1 - Intro
2 - Cheese And Dope
3 - Pure Ana
4 - Try Somethin'
5 - Don't Turn Around
6 - North Memphis
7 - North, North
8 - Out There
9 - Dis Bitch, Dat Hoe
10 - Still Ridin' Clean
11 - Ridin' & Swervin'
12 - Googly Moogly
13 - Gorilla Pimp
14 - Choose U
15 - You Know The Biss
16 - Drive By
17 - M.E.M.P.H.I.S
18 - Poppin' My Collar
19 - Aggravated Robbery
20 - Slangin' Rocks
21 - Take Da Charge
22 - Should I Go
23 - Project Pat feat. Young Jeezy & Lyfe Jennings - Tell
24 - Ray Cash feat. Pimp C, Project Pat & T.I. - Bumpin' My Music (remix)
25 - Three-6-Mafia & Project Pat - Hustlin'
How To DOWNLOAD