DJ Scoob Doo - Lost In Yonkers 5: The Usual Suspects
Submitted by method187 on Thu, 10/05/2006 - 9:29am.
East Coast | DJ Scoob Doo | Mixtape Torrents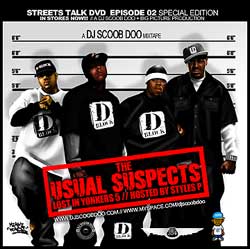 DJ Scoob Doo is back in Tri-State after a
quick trip to the South (see: Lil' Wayne) and
after a quick layoff from the mighty D-Block,
the Yonkers crew is back in the building with
their favorite DJ not named Big Mike.
If you follow D-Block, you know that Big Mike is
their official heat-holder. But you also know
that second-in-line is none other than Scoob
Doo. So when Scoob pops off, you better
listen. When Styles P aka. 'The Gentleman'
stops by to pay a visit and endorse the kid, it's
a no-brainer.
Lining up the D-Block squadron for this major
motion mixtape, Scoob & Styles put it down
with The Usual Suspects for this D-Block
mixtape packed with new and exclusive
material from all the members & affiliates:
Jadakiss, Styles, Sheek, J-Hood, 354 Ent., T
Waters, Snyp Life, Tre Williams, Bucky, A.P.
and more.

1 - Styles P - Lost In Yonkers Pt.5
2 - Styles P & DJ Scoob Doo - Usual Suspects
3 - Styles P - Yonkers Blocks
4 - Jadakiss - Live Freestyle In Yonkers
5 - Jadakiss - Rollin Up
6 - Sheek, Wyclef, Joe Budden, Snyp Life, Get Doe - I'm A Victim
7 - J Hood feat. ODG (Milli & A.P) - Yonkers Grinders
8 - Styles P - Come Get Lost In Yonkers
9 - Snyp Life, T.Waters, Large Amount - Yonkers Gangstas
10 - Jadakiss - It Started In Yonkers
11 - Tre Williams feat. Scarface & 2pac - In The Projects
12 - A.P. - Yonkers Real Niggas
13 - Styles P & Sheek - Dial 914 For Yonkers
14 - Jadakiss & Kurse - I'm Blastin Off
15 - T. Waters - Doo What You Wanna Doo
16 - J Hood feat. Odg - Roll The Green
17 - Snyp Life feat. Sheek - Hott Girl
18 - Jadakiss - I Got More
19 - Snyp Life - A Yonkers Tale
20 - Tre Williams - Yonkers Struggle
21 - Styles P & Akon - Life
22 - J Hood & A.P - I'm From Yonkers
23 - Sheek - Freestyle
24 - A.P. & Large Amount - New Yonkers
25 - Styles P & Bucky (D-Block Philly) - Freestyle
26 - Sheek - My Yonkers D-Block Niggas
27 - King Tuh, J Skaytz, T. Waters - We All We Got In Yonkers
28 - Styles P - Lost In Yonkers Part 6 Coming Soon
29 - Sheek & J Hood - Freestyle
30 - Styles P - Freestyle
31 - Snyp Life & Young French - Freestyle
32 - Jadakiss - T.R.O.Y
How To DOWNLOAD