DJ Rondevu - The Homicide Files Part 2 (Hosted By The Clipse)
Submitted by mfizzel on Thu, 05/25/2006 - 1:24pm.
East Coast | DJ Rondevu | Mixtape Torrents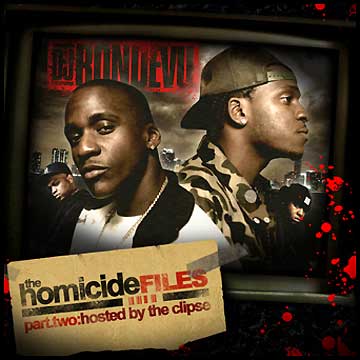 The We Got It 4 Cheap all-stars The Clipse are stunting with the BK
mixtape veteran DJ Rondevu on this blends/remix mixtape full of the
hottest, most involved blends & remixes in the game. Taking the remix
to a whole 'nother level, Rondevu, Malice & Pusha T re-up with another
dose of potent blends, remixes and re-fixes featuring D-Block, Nas &
Jay-Z, Dipset, G-Unit, Mobb Deep, Swishahouse, Papoose, Raekwon.

1 - Clipse Intro
2 - D-Block Boyz- Styles P & Jadakiss (DJ Rondevu remix)
3 - The Only Way – Mobb Deep & Lloyd Banks (DJ Rondevu remix)
4 - Clipse Interlude
5 - Mr. Me Too pt. 2 - The Clipse, Jay Z & Nas (DJ Rondevu remix)
6 - Addicted To Street Life – Jadakiss, Sheek Louch & Maino (DJ Rondevu remix)
7 - We Don't Play Around – Young Buck & 50 Cent (DJ Rondevu remix)
8 - Whats Poppin Thun – Prodigy
9 - Grill Em – J.R. Writer (DJ Rondevu remix) [produced by DJ Ronedevu]
10 - This Is Block Shit – Mobb Deep (DJ Rondevu remix)
11 - Money Talks – The Clipse & Swishahouse feat. Jay Z
12 - Exclusive Freestyle – Cormega & Lake
13 - The Oath – Lake feat. Cormega
14 - Funeral – The Clipse (DJ Rondevu remix)
15 - Rap Dudes (Lets Rap) – O.C. feat. M.O.P. (DJ Rondevu remix)
16 - Gunblast – El Da Sensei & Raekwon (DJ Rondevu remix)
17 - Streets – Vinnie The Don & Papoose
18 - Soon You'll Understand – 50 Cent & Lloyd Banks (DJ Rondevu remix)
19 - Best Friend- Olivia feat. Jadakiss (DJ Rondevu remix)
20 - Shoutouts
21 - So Ill – Mobb Deep (Unreleased)
22 - All On Your Own – A Pinks
23 - Freestyle – Remo Da Rapstar
24 - Fire In Ya Eyes – The Game & J.B.
25 - Double Down – The Clipse & Vybz Kartel
26 - War – Cam'ron & Hell Rell
How To DOWNLOAD