DJ Rondevu - Napalm Pt. 3: East Coast Invasion
Submitted by mfizzel on Mon, 03/06/2006 - 9:50am.
Mixtape Directory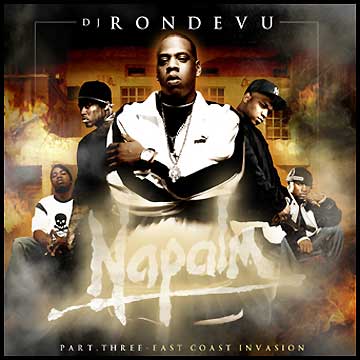 DJ Rondevu cooks up another dose of that poisonous mixtape
flow, piecing together a 3rd batch of some of the hardest-hitting
hip-hop remixes/blends in the game. With originally produced
blends & remixes, this joint features Nas w/ 50 Cent, Biggie &
Young Buck, Saigon & Beanie Sigel, Jay-Z, Kanye & Game...

1 - DJ Rondevu Intro
2 - Sheek Louch & Styles P – When It Rains It Pours (DJ Rondevu remix)
3 - Styles P Interlude
4 - Red Cafe & Cormega Freestyle
5 - Cormega Interlude
6 - The Carter – Young Buck & Notorious B.I.G. [produced By DJ Rondevu]
7 - Bricks In The Hood – Nas & 50 Cent (DJ Rondevu remix)
8 - Dirty Game – Cormega
9 - Put Em In They Place – Mobb Deep & Young Buck (DJ Rondevu remix)
10 - Star Interlude
11 - Dirty NY – Cormega, Lake & Fat Joe
12 - Jailhouse Anthem – Saigon & Beanie Sigel (DJ Rondevu remix)
13 - Jay-Z Interlude
14 - Brooklyn's Where I'm From – Jay-Z [produced by DJ Rondevu]
15 - Hustlin – Smooth The Hustla & 50 Cent (DJ Rondevu remix)
16 - DMX Interlude
17 - Crack Music – DMX feat. Kanye West & The Game (DJ Rondevu remix)
18 - Cam'ron & DMX Interlude
19 - Diplomatic Takeover – Jay-Z (DJ Rondevu remix)
20 - We The $hit – T.I. & Young Jeezy (DJ Rondevu remix)
21 - Shoutouts & Info
22 - Better Life – Vinnie The Don & Papoose
23 - Where Did We Go Wrong – Anthony Hamilton & Judah
BONUS TRACKS
24 - Swagger Jacker, pt. 2 (I Don't Write Shit) – Dipset
25 - J.R. Writer & Paul Wall – That's A Bet
26 - Star Outro
27 - We Gon' Ride – Saigon & Mobb Deep feat. Tru Life [produced by DJ Rondevu]
How To DOWNLOAD