DJ Green Lantern Presents - Fort Minor: We Major
Submitted by mfizzel on Wed, 11/30/2005 - 12:58pm.
Mixtape Directory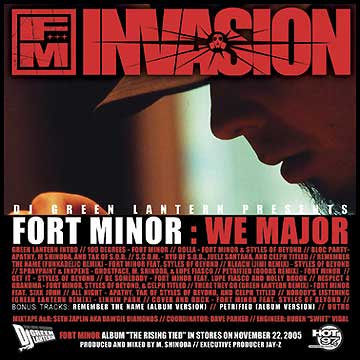 DJ Green Lantern invades the mixtape game with Fort Minor on this
major motion mixtape. For those unfamiliar, Mike Shinoda (lead singer
for the platinum rock group Linkin Park) has branched out and created
his hip-hop identity, Fort Minor. With an album due out at the end of '05
(executive produced by Jay-Z), this is the official mixtape beforehand.
1 - Green Lantern Intro
2 - 100 Degrees
3 - Dolla feat. Styles of Beyond
4 - Bloc Party feat. Apathy and Tak (of S.O.B.)
5 - S.C.O.M. feat. Ryu (of S.O.B.), Juelz Santana and Celph Titled
6 - Remember the Name (Funkadelic remix) feat. Styles of Beyond
7 - Bleach (Jimi remix)
8 - Spraypaint & Ink Pens feat. Ghostface and Lupe Fiasco
9 - Petrified (Doors remix)
10 - Get It
11 - Be Somebody feat. Lupe Fiasco and Holly Brook
12 - Respect 4 Grandma feat. S.O.B. and Celph Titled
13 - There They Go (Green Lantern remix) feat. Sixx John
14 - All Night feat. Apathy, Tak (of S.O.B.) and Celph Titled
15 - Nobody's Listening (Green Lantern remix)
16 - Cover and Duck feat. Styles of Beyond
BONUS TRACKS
17 - Remember the Name [album version] feat. Styles of Beyond
18 - Petrified [album version]
19 - Outro
How To DOWNLOAD