DJ G-Spot And Rain - Here Comes The Rain Again
Submitted by mfizzel on Thu, 01/01/2009 - 7:36pm.
General | DJ G-Spot | Mixtape Torrents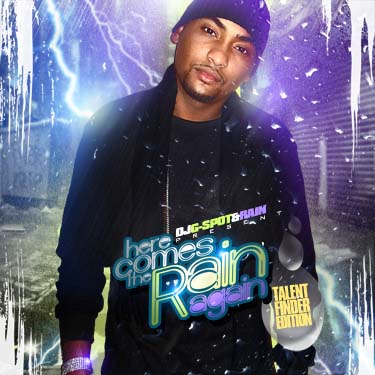 The Talent Finder series is back!!!! DJ G-Spot is taking his game on the road
and showing ya'll how to really do this shit and do it right. G-Spot links up
with the Boss Of North Carolina, RAIN, to bring you that heat for the new year.
01. Rain Intro
02. Can You Feel It
03. Feel Me
04. Never See Me Sweat
05. Take My Breathe Away
06. Its Me
07. Swagga Like Us feat Traffic & Big Cas
08. Missed Again
09. You Already Know
10. Get Up
11. Lots Of Lovin
12. Rain Talent Finder Interlude
13. So Damn Ugly
14. Directors Chair
15. Get It In
16. Rain Fire Interlude
17. Round The World feat Krillz & Lure
18. Make It
19. Top Come Down
20. Whats That White Stuff
21. Get Away
22. Some People Hate
23. Where The Cash At
24. Chasing The Night Life
25. Wow
26. Rain Contact Info Outro
How To DOWNLOAD