DJ G-Spot - Carry The Torch (Bringing Real Hip Hop Back)
Submitted by mfizzel on Sun, 09/24/2006 - 3:59pm.
East Coast | DJ G-Spot | Mixtape Torrents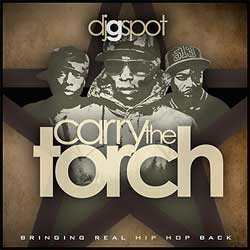 "If skills sold, truth be told...I'd probably be,
lyrically, Talib Kweli..." Remember when Jay-Z
said that line in "Moment Of Clarity" on Black
Album? DJ G. Spot was listening, you can bet
that.
Bringing real hip-hop back to its roots, G Spot
hails three of hip-hop's brightest stars (even if
you don't see their shine): Mos Def, Talib
Kweli and DJ Hi-Tek. Together the 3 of them
crafted hip-hop's classic album Blackstarr. Mos
& Kweli torched the mic while Tek laced the
beats.
With Hi-Tek about to drop the sequel to his
debut Hi-Teknology, the timing for this mixtape
is perfect. This CD is a compilation of Mos,
Kweli and Tek classics from over the years, as
these guys will be hip-hop's torch-bearers for
years to come.

1 - Carry The Torch Intro / Speech
2 - Mos Def – Ms Fat Booty
3 - Mos Def - Brooklyn
4 - Mos Def – Hip Hop
5 - Mos Def – Ghetto Rock
6 - Mos Def feat. Q-Tip & Tash – Body Rock
7 - Mos Def feat. Common & Kanye West – The Corners (remix)
8 - Mos Def – The Panties
9 - Black Sheep – Interlude
10 - Mos Def – Here's Comes The Champ
11 - Common - Interlude
12 - Talib Kweli feat. Mos Def, Jay Z, Kanye, Busta – Get By (remix)
13 - Talib Kweli – Move Something
14 - Talib Kweli – The Blast
15 - Talib Kweli feat. Rah Digga – Down For The Count
16 - Talib Kweli feat. Bilal – Waiting For The DJ
17 - Talib Kweli – The Manifesto
18 - Talib Kweli – Never Been In Love
19 - Talib Kweli - Listen
20 - Hi-Tek feat. Common – The Sun God
21 - Hi-Tek feat. Talib Kweli & DCQ – Get Back Pt 2
22 - Hi-Tek feat. Main Flow, Donte, Brian Digby Jr & Crunch – Breakin' Bread
23 - Hi-Tek feat. Mos Def & Vinia Mojica – Det Ta Steppin'
24 - Hi-Tek feat. Buckshot – The Illest It Gets
25 - Hi-Tek feat. Jonell - Round & Round
26 - Black Star feat. Common – Respiration Pt 1
27 - De La Soul – Interlude
28 - Black Star feat. Common – Respiration Pt 2
29 - Black Star - Definition
30 - Black Star – K.O.S. (Determination)
31 - Mos Def feat. Bush Babies – The Love Song
32 - Talib Kweli feat. Kanye West & Common – Get Em High
33 - Carry The Torch Outro
How To DOWNLOAD