DJ Drama - Young Jeezy: Can't Ban The Snowman (SWISHAHOUSE REMIX)
Submitted by mfizzel on Fri, 03/10/2006 - 7:14pm.
Mixtape Directory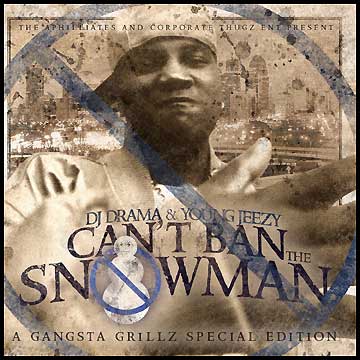 THIS IS THE SWISHAHOUSE REMIX VERSION

Drama introduced Young Jeezy to the hip-hop world with the release
of Tha Streets Iz Watchin'. People really took notice when Mr. Gangsta
Grillz and Jeezy put Trap Or Die on 'em. This lethal duo brings you their
3rd collaboration and what Drama calls the best yet, as The Snowman
hits you with 27 exclusives, tracks & freestyles w/ his Corporate Thugz.
1 - Third Times The Charge
2 - I'm Back
3 - USDA's The Click
4 - Ya Dig
5 - Cadillac
6 - Reintroduction
7 - One's For CTE feat. Slick Pulla & Bloodraw
8 - Gangsta Party feat. Slick Pulla
9 - Say I feat. Christina Milian
10 - Better Than Ever
11 - U Can't Stop These Gangsters feat. Slick Pulla
12 - I Know U Don't Love Me feat. Slick Pulla
13 - Trap Star Feat Slick Pulla
14 - Jeezy The Snowman
15 - Burnin Up feat. Slick Pulla & Bloodraw
16 - Makin It Look Easy
17 - I'm A G feat. Slick Pulla
18 - Snitches feat. Bloodraw
19 - Studio Gangsters
20 - After 2 Million Sold
21 - Lil Buddy feat. Bloodraw
22 - Still Don't Kno
23 - Verbal Intercourse
24 - For The Hood
25 - We Major
26 - Still I Love It
27 - We Did It Again
How To DOWNLOAD