DJ Clue - Fidel Cashflow Part 2
Submitted by mfizzel on Tue, 11/29/2005 - 5:02pm.
Mixtape Directory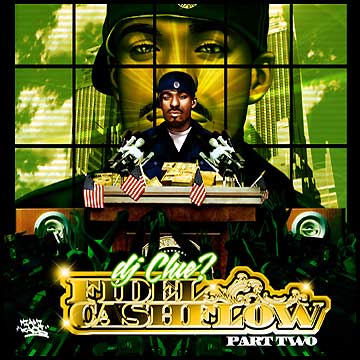 DJ Clue? reminds you what it used to be like when Cluemanaaattiiii?!
was heard in the streets on a new Clue? tape every few weeks. With
his latest joint, the legend premieres new & exclusive Fabolous, Nas &
Maino, Joe Budden & Stack Bundles + bangs out that gangsta sh*t by
50 Cent, Sheek & Jada, Mase, Prodigy, Lil' Kim, A-Team, Paul Cain...

1 - Intro
2 - I'm A G - Fabolous
3 - Check Clear - Mase
4 - Tax Exempt - Sheek & Jadakiss
5 - Shootouts 2005 - Nas feat. Maino
6 - I Know You Pussy - Styles P
7 - I Keep That - Joe Budden
8 - Niggaz Bleed - Game feat. Technic
9 - 60 Bars - Ransom (A-Team)
10 - Emotional - 50 Cent
11 - Where - Stack Bundles
12 - Welcome To D-Block - Sheek
13 - Touch The Town (Back Again) - Fabolous
14 - Window Shopper - 50 Cent
15 - Just A Touch - 50 Cent
16 - Can I Live - Styles P
17 - People Talking - Prodigy
18 - Diamonds - Paul Cain
19 - Bossed Up - Nas feat. Nayshawn
20 - You Know What'll Happen - Stack Bundles feat. Joe Budden & Core 2G
21 - Hustlers Ambition - 50 Cent
22 - Da Souf - Magnificent
23 - Get To Know Me - Joe feat. Nas
24 - All Good - Lil Kim
25 - Beats To The Rhyme - Styles P
26 - 2 Much - Mobb Deep
How To DOWNLOAD