DJ 007 - Reggaeton vs. Hip-Hop #4 (Hosted by N.O.R.E. & Yomo)
Submitted by mfizzel on Thu, 08/17/2006 - 9:38am.
Reggaeton | DJ 007 | Mixtape Torrents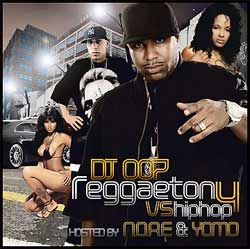 The mighty DJ 007 has made a name for himself with his Reggaeton vs. Hip-Hop Latin mixtape
series, each featuring an exciting new host. With the last version hosted by Hector 'El Father,
'Thugged Out's N.O.R.E. takes the hosting duties this time.
Also along for the ride is Yomo, an artist catching major buzz right now in reggaeton after
his cameos on the recent Hector album.
This mixtape features a collection of blends, reggaeton, Latin hip-hop, club joints and
freestyles from N.O.R.E. , Don Omar, Tego Calderon, Pharrell & Zion, Alexis y Fido, Hector
El Father, Lumidee, Shakira, Wisin y Yandel, Voltio & Michael Jackson and Big Mato.

1 - Intro- DJ 007 feat. N.O.R.E. , Big Mato, Spk, Lumidee & DJ Camilo
REGGAETON
2 - Baila Conmigo- N.O.R.E. feat. Don Omar, Big Mato & P Diddy
3 - Hips Don't Lie (remix)- Shakira feat. Wyclef, Jabba & Fatman Scoop
4 - Bounce- N.O.R.E. feat. T.O.K.
DJ 007 BLENDS
5 - Somo De La Calle- Maicol Manuel, Voltio (DJ 007 Blend)
6 - Fantasma- Zion (DJ 007 Blend)
7 - Sexy Love (remix)- Ne-Yo feat. Michael Jackson & Voltio (DJ 007 Blend)
NEW REGGATON
8 - Telefonico- Hector El Father feat. Wisin Y Yandel
9 - Yomo Dele- Yomo feat. Fat Joe
10 - No Puedo- Twinz Swuad
11 - Lumidee Interlude - DJ 007
12 - It's So Hard- Big Pun (DJ 007 Blend)
13 - Tego Calderon - New
14 - N.O.R.E. feat. Zion & Pharrell
15 - Dale Con Peppa- Yomo
16 - Ahora Son Mejor- Don Omar
17 - Tu Quieres Novio- Neho feat. Tego
18 - Sigue Ahi- Zion, De La Ghetto, Memphis Bleek
19 - Mas Maiz (remix)- N.O.R.E. feat. Big Mato, Nina Sky, Fat Joe & Alexis Y Fido
NEW HIP-HOP
20 - Fabolous, Jadakiss, & Akon (DJ 007 Blend)
21 - Who Shot Ya? 2K6- Notorious Big (DJ 007 Blend)
22 - Scratch 104 - Take Em Back 2 The Street
23 - Blow - Rick Ross
24 - Hands Up - Lloyd Banks feat. 50 Cent
25 - Flippin' That - Nina Sky, Rick Ross
26 - Chevy Ridin High (remix) - Dre feat. Pusha & Game
27 - One Blood - Game
28 - Sponsors
How To DOWNLOAD