Dirty Harry - Dirty Luv Pt. 2
Submitted by mfizzel on Sat, 07/22/2006 - 7:19pm.
Blends | Dirty Harry | Mixtape Torrents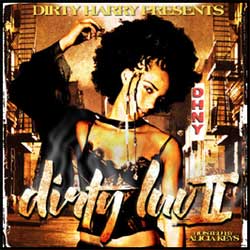 Dirty Harry dropped Dirty Luv ages ago, but nobody seemed to
mind because there hadn't been a hotter slow jams tape since...
Until NOW! Harry is back with the lovely Alicia Keys as she hosts
this special love-makin' mixtape classic - w/ classic slow jams and
mixes by everybody from Marvin Gaye to the Isley Bros. to Janet.

1 - Michael Jackson – Lady In My Life (Harry Mix)
2 - Jodeci – Freek'n You (Harry Mix)
3 - Shai – If I Ever Fall In Love (Harry Mix)
4 - Bump & Grind Jeep Mix
5 - Intro – Come Inside
6 - Public Annoucement – Dedicated
7 - SWV – Your Always On My Mind
8 - Michael Sterling – Lovers & Friends
9 - Jodeci – Feenin'
10 - Babyface – Soon As You Get Home
11 - Keith Sweat – In The Rain
12 - Norman Connors – You Are My Starship
13 - Isley Brothers – Voyage To Atlantis
14 - New Birth – It's Been A Long Time
15 - Delfonics – Hey Love
16 - Your Body's Callin'
17 - Teddy Pendegrass – Come On And Go With Me
18 - Diana Ross – Love Hangover
19 - Bootsy Collins – I'd Rather Be With You
20 - Teddy Pendergrass – Close The Door
21 - Minnie Ripperton –Inside My Love
22 - Brothers Johnson – Strawberry Letters 23
23 - Delegation – Oh Honey
24 - Linda Crawford – Never Going To Stop
25 - Donald Byrd – Places And Spaces
26 - Leon Haywood – I Want To Do Something Freaky To You
27 - Stephanie Mills – Starlight
28 - Chaka Khan – Stop On By
29 - Faze O – Riding High
30 - Gwen McCrae – 90% Of Me Is You
31 - Barry White – I'm Gonna Love You Just A Little Bit More
32 - David Porter – I'm Afraid The Masquerade Is Over
33 - Zapp & Roger – Computer Love
34 - Roger – I Want To Be Your Man
35 - Tony Toni Tone – It Never Rains
36 - AK -Feeling U, Feeling Me
37 - Debarge – Time Will Reveal
38 - Prince – Adore
39 - Stacey Lattisaw – Perfect Combination
40 - World Class Wreckin' Cru – Turn Off the Lights
How To DOWNLOAD