Dirty Harry - The Warriors
Submitted by mfizzel on Wed, 02/01/2006 - 11:50am.
Blends | Dirty Harry | Mixtape Torrents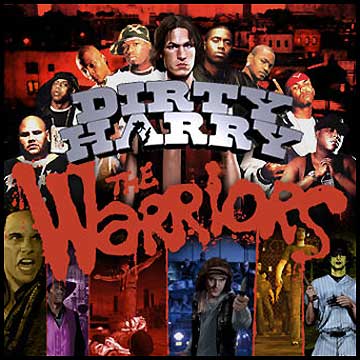 Dirty Harry brings you this special Warriors edition mixtape as the
mixtape legend makes a return to the mixtape circuit for the first time
since he dropped Nas: Living Legends. Getting down with those Harry
remixes he's famous for, this mix features blends w/ Biggie & Big L,
Jay-Z, Game, Jeezy w/ T.I./Flip/Wayne, Dipset, 50 Cent, 2pac, Nas.

1 - Warriors Intro
2 - Jay- Z/Nas - I Don't Know
3 - Young Jeezy, T.I, Young Buck, Lil' Flip & Lil' Wayne - Warriors Rap Figures I (Dirty Harry mix)
4 - The Game - Grillz Mix (Dirty Harry mix)
5 - Mobb Deep/50 Cent (Gangsta Snoop Mix)
6 - Nas – Nasdaq Season Begins 2006
7 - Young Jeezy/Tupac/Akon - Can U Believe It (Dirty Harry mix)
8 - Notorious B.I.G./Big L/Lloyd Banks - Something Bigger (Dirty Harry mix)
9 - Fat Joe/Big Pun/Freeway - Get Your Grind On (Dirty Harry mix)
10 - Jay-Z Verse (Queens Logic Harry Mix)
11 - 50 Cent - Simple Ain't It (Dopeman Harry Mix)
12 - Lloyd Banks, M.O.P., Beanie Sigel, Sheek & Jadakiss - Warriors Rap Figures II
13 - 2Pac/DMX - Crack Music (Dirty Harry mix)
14 - The Game feat. Paul Wall – Serial Killer Mix (Dirty Harry mix)
15 - Lil' Kim - Spell Check (Notorious Mix)
16 - Nas feat. Papoose & Blitz – Across The Tracks
17 - Kanye West feat. Dramills - Heard 'Em Say (Dirty Harry mix)
18 - Young Jeezy, T.I., Bun B., Scarface & Slim Thug - Warriors Rap Figures III (Dirty Harry mix)
19 - Lloyd Banks - You're a Customer (Neptunes Mix)
20 - Fabolous – Break You Off (Ready Mix)
21 - Kanye West feat. Papoose - Hey Mama (produced by Dirty Harry)
22 - When I'm Gone Vs. Cry Little Sister (Harry Mash Up)
23 - T.I. - Ride With Me (Murder Murder Mix)
24 - Juelz Santana - Can U Count Suckers (Dirty Harry mix)
25 - Cam'ron - Do Your Thing (Boogie Down Mix)
26 - Lloyd Banks, Camron, The Game & Fat Joe - Warriors Rap Figures III (Dirty Harry mix)
27 - Jadakiss & Sheek Louch - This Way (Dirty Harry mix)
28 - Snoop Dogg - Gangsta & Thugs (Dirty Harry mix)
29 - Krucial – Take The Hood Back (produced by Kerry Krucial Brothers)
30 - Styles P./Ghostface - Can It Be So Simple (Throwback Mix)
31 - Nas feat. Killah Priest - The Saints (produced by Dirty Harry)
32 - Cam'ron - Oh Yes/Mr.Postman (Dirty Harry mix)
33 - Bless Outro
How To DOWNLOAD