Supa Mario & Big Mike Present - Vinny Idol: King Of Beats (D-Block Producers Series)
Submitted by mfizzel on Sun, 07/30/2006 - 4:58pm.
East Coast | Supa Mario | Mixtape Torrents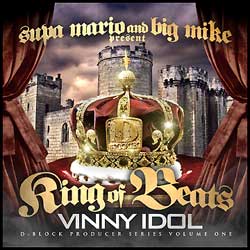 Big Mike and D-Block's Supa Mario premiere their D-Block Producers Series,
a line of mixtapes representing the Mighty D-Block camp and its loyal
stable of beatsmiths.
The first producer to catch the official D-Block mixtape spotlight is
Vinny Idol, a Bronx beatmaker responsible for blessing numerous works
from the Yonkers collective. if you mess with D-Block, chances are you mess
with Idol.
This official D-Block mixtape features tracks produced by Vinny Idol,
including TEN (10) all-new records and a slew of recent and classic gems.
Featuring tracks by Sheek, Jada, Styles, J-Hood, Team Arliss, St Raw, T Waters & more.

1 - Vinny Idol & Styles P - Intro
2 - Sheek & Jadakiss - Pain (remix)
3 - Sheek Louch - Bounce
4 - Jadakiss - Don't Get Scared
5 - J-Hood - Gangsta
6 - Bully - No Gettin' Over
7 - The Lox - D.B.L.O.C.K. (remix)
8 - Bucky - Live By The Gun
9 - Team Arliss - We Dare You
10 - Styles P feat. Sizzla - Fire & Pain
11 - St. Raw & Styles P - Idol On The Beat
12 - Vinny Idol - Beat Break #1
13 - Styles P & Sheek Louch - New York City
14 - St. Raw Interlude
15 - D-Block Next Generation - The Symphony
16 - Don D & Ty - It's A Big Thang
17 - T Waters - Just Do It
18 - St. Raw feat. Slim Thug - Like This
19 - Da Boy Short - Let The Tools Spit
20 - Styles P - Supaghost
21 - Styles P - Movie Shit
22 - J-Hood - In My Hands
23 - Sheek Louch - Take That
24 - Styles P - The Key
25 - D-Block Next Generation - Shoot A Nigga
26 - Sheek Louch & Redman - Get Up
27 - Vinny Idol - Beat Breaks Outro
How To DOWNLOAD