Sickamore - I Can Make You Famous 3
Submitted by mfizzel on Tue, 11/22/2005 - 8:05pm.
Mixtape Directory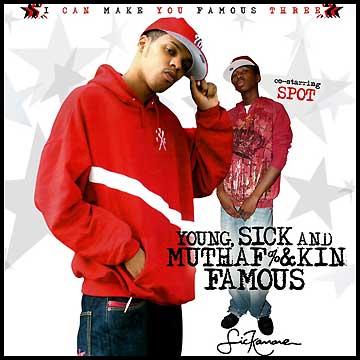 Sickamore ain't playin'! Dude will make you famous. So, without further
ado, he brings you Spot, the third up in the I Can Make You Famous line
of mixtapes. As usual, Sickamore comes sicka than the rest with major
exclusive-azz music from Saigon, Jay-Z & Nas, Cam'ron & Dipset, Tru
Life, 50 Cent, Young Jeezy, Maino, Stack Bundles, Red Cafe, Papoose.
1 - Jay-Z & Nas Make Peace Live
2 - Jay-Z - Be Like Hov
MAIN EVENT
3 - Spot - The Corner
4 - Tru Life Freestyle
5 - Saigon - Saigon Anthem
6 - Cam'ron Talks About Shooting Interlude
7 - Cam'ron feat. Jim Jones, J.R. Writer & Hell Rell - Get 'Em Daddy (remix)
8 - Spot & Papoose - Recognize A G
9 - Cam'ron & Juelz Santana - It's Nothing
10 - 50 Cent - What If (Dissin' AZ)
UNSIGNED PICK OF THE MONTH
11 - Mekka Millz
12 - BMF Get Arrested Interlude
SWEET 16 OF THE MONTH
13 - Young Jeezy - Free BMF Freestyle
14 - Spot - Take Two
15 - Tru Life - Breathe In Our Lungs (produced by Rockwilder)
16 - Maino - Thug Music
17 - Mariah Carey feat. Cam'ron & Juelz Santana - Your Girl (remix)
18 - Mense - Ready Or Not
19 - Stack Bundles - Window Shopper Freestyle
20 - Remo The Rapstar & Sunny Carson Freestyle
21 - Red Cafe - Calm Down
22 - Tru Life - All Night Long (produced by Green Lantern)
UNSIGNED SPOTLIGHT
23 - Casino Chip
24 - K Doggz
25 - Amount Boyz
26 - Boo Blades
How To DOWNLOAD