DJ Lazy K - The Official Best of Dipset
Submitted by mfizzel on Sat, 02/11/2006 - 9:24pm.
Mixtape Directory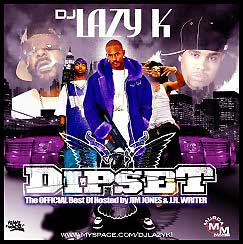 DJ Lazy K gets J.R. Writer aka. The Writer Of Writers and Jim Jones
aka. Capo Status to host this mix. This features some of the Diplomats'
latest & best tracks including some exclusive joints + new remixes. This
has new music from Cam'ron, Juelz Santana, Hell Rell, Max B, Lil' Wayne,
Game, Dem Franchize Boyz, Stack Bundles, Young Jeezy and Master P.

1 - Jim Jones - Intro
2 - J.R Writer - Exclusive
3 - Cam'ron - You Gotta Love It (Dissin' Jay-Z)
4 - Dem Franchize Boyz feat. Jim Jones & Dame Dash - Brickz For The High
5 - Stack Bundles feat. Jim Jones & Max B - Cold Rockin Mix
6 - J.R Writer - Rider
7 - J.R Writer - Major Paper
8 - J.R Writer - Freestyle (LAZY K Xclusive)
9 - Juelz feat. Young Jeezy & Lil' Wayne - Clock Work
10 - J.R. Writer feat. Cam'ron & Lil' Wayne - Bryd Call (Xclusive LAZY K version)
11 - Cam'ron - Show You How To Do This
12 - Cam'ron - Really Mean It
13 - Hell Rell feat. J.R Writer - Head Popped Off (LAZY K Xclusive)
14 - Cam'ron - Deaf
15 - Jim Jones feat. Game - Certified Gangsta (remix)
16 - Cam'ron feat. Master P - We Bout It Bout It
17 - Juelz - Skit/J.R Writer feat. Popi Storz(LAZY K Artist) - Win Or Lose
18 - J.R Writer feat. Nucci Reyo - Freestyle
19 - J.R Writer - Skit
20 - Nicole Wray feat. Max B - (LAZY K Xclusive)
21 - J.R Writer - Freestyle (produced by Knoxvill)
22 - J.R Writer - Freestyle b/w Hell Rell - Ruger Rell & Writer Of Writers
Unsigned Artists
23 - Datin - Man v.s. Machine (produced by Charlemange)
24 - Row Sheed - Most Feel Good
How To DOWNLOAD