DJ White Owl - RnB Thirty Three (33)
Submitted by romeo on Thu, 12/21/2006 - 9:25am.
R&B | DJ White Owl | Mixtape Torrents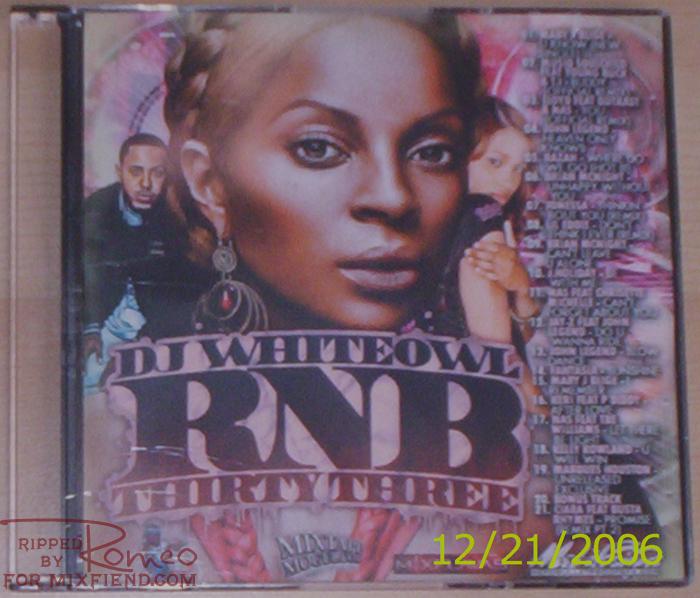 MIXFIEND.COM & MIXTAPETORRENT.COM EXCLUSIVE RELEASE
Chea this took a minute since I can't even find a tracklist online,
I had to type up everything from the cover. Chea - da cover sorry
bout the quality, it's the best I can do since I have no scanner.
Aiight so on to THE TAPE! - RnB Thirty Three. DJ White Owl really
put in work on this one. Starting off with the queen of soul/r&b
herself: Mary J. Blige. It features 21 tracks total and is laced
with exclusives and official remixes. This is what the people who
really appreciate R&B have been waiting for - a must have.
1. Mary J. Blige - U Know (New Single) [3:12]
2. Musiq Soulchild Feat. Young Buck & T.I. - Buddy (Official Remix) [4:54]
3. Lloyd Feat. Outkast & Nas - You (Official Remix) [4:21]
4. John Legend - Heaven Only Knows [3:31]
5. Razah - Where Do We Go (Hot!!!) [2:47]
6. Brian Mcknight - Unhappy Without You [3:57]
7. Jonessa - Thinkin' Bout You (Remix) [2:54]
8. Lil Eddie - Don't Think I Ever (Remix) [1:59]
9. Brian Mcknight - Can't Leave You Alone [3:51]
10. J. Holiday - Be With Me [3:31]
11. Nas Feat. Chrisette Michelle - Can't Forget About You [4:24]
12. Jay-Z Feat. John Legend - Do U Wanna Ride [5:26]
13. John Legend - Slow Dance [4:40]
14. Fantasia - Sunshine [3:25]
15. Mary J. Blige - I Remember [4:04]
16. Keri Feat. P. Diddy - After Love [4:19]
17. Nas Feat. Tre Williams - Let There Be Light [4:16]
18. Kelly Rowland - U Will Win [3:58]
19. Marques Houston - Circle (Unreleased Exclusive) [3:22]
20. Akon - Bonus Track [2:44]
21. Ciara Feat. Busta Rhymes - Promise (Remix Pt. 2) [2:24]
How To DOWNLOAD