Mo Fire & Fade, Jail Break Recordz - Wu Affiliated (Chamber #1)
Submitted by mfizzel on Tue, 06/06/2006 - 3:30pm.
East Coast | Jail Break Recordz | Mixtape Torrents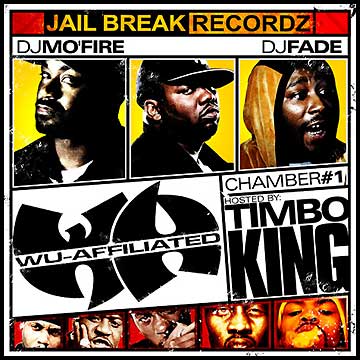 DJs Mo' Fire & Fade (of Jail Break Recordz) collab with Timbo King,
the ringleader of Royal Family, a disciple of the Wu-Tang family. With a
gang of new and exclusive tracks, this mixtape features the entire Wu
sqaud + an impressive list of disciples. This CD features 29 tracks from
Raekwon, Ghostface, Inspectah Deck, GZA, RZA, Cappadonna, Method
Man, ODB, LA the Darkman, Gravediggaz, Logic, Mazur and mad others.

1 - DJ Fade/Timbo King Intro
2 - Timbo King feat. Dollarmentary, Logic - Get It [produced by Ghost]
3 - Raekwon feat. Ice Water - Gotta Have It
4 - Inspectah Deck feat. Capadonna - Game Down [produced by Gambit Ent]
5 - Prodigal Sunn - I Ain't Tryin To Hear It [produced by B.Original]
6 - Buddha Monk feat. Life, Mazur - Butterflies
7 - Dollarmentary feat. Method Man - Ring the Alarm [produced by Rival]
8 - Chi King feat. Logic - Salsa
9 - Garcia feat. Capadonna, Heckler - We Live This
10 - Timbo King - Timbs/Tire Bottoms
11 - Hell Razah - Human Torch [produced by DJ Rated R]
12 - Killah Priest feat. Hell Razah - The Offering
13 - Timbo King Intermission
14 - Mazur - I Don't Like U Freestyle
15 - Ghostface Killah feat. Raekwon - Real Nillaz
16 - Bronze Nazareth feat. Timbo King - More than Gold
17 - Prodigal Sunn feat. 12 O'Clock - Manhunt
18 - Northstar feat. WC, E40, Christbearer - Guns Come Out [produced by RZA]
19 - Rass Kass feat. GZA - Versus
20 - Dollarmentary feat. Icarus, Method Man - How Do U Want It
21 - Logic - Wu Melady
22 - Bklyn Zu feat. ODB - Play the Game
23 - RZA - Outlines
24 - LA the Darkman feat. Kool G Rap, Bowtie - Alleyway Hustlers
25 - Chi King - Hip Hop Love
26 - Black Market Militia - MayDay!
27 - GZA feat. RZA - All in Together Now
28 - Timbo King Outro
29 - Gravediggaz (RZA & Grym Reaper) - Freak The Sorceress
How To DOWNLOAD