Mick Boogie - The 95 Drive
Submitted by mfizzel on Sun, 02/05/2006 - 8:55pm.
Mixtape Directory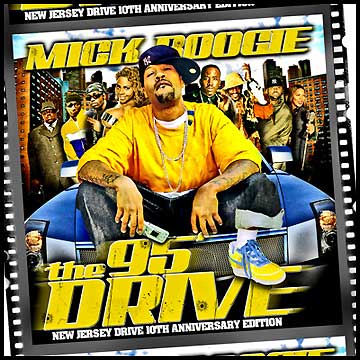 Mick Boogie originally created this CD for the 10th anniversary DVD
of New Jersey Drive, a classic hood movie. Now this CD is available to
all, and this one's strictly old school East Coast flavor. Features classic
tracks from Big L, Lost Boyz, Redman, KRS One, Kool G Rap & Nas,
OC & Jeru, Biggie & Jr. Mafia, Boot Camp, GZA, Naughty By Nature...

1 - Intro
2 - Queen Latifah – Jersey
3 - Raekwon - Incarcerated Scarfaces
4 - Pharcyde – Runnin'
5 - Alkaholiks - Daaaam
6 - Outkast - Benz Or Beamer
7 - Kool G Rap & Nas - Fast Life
8 - New Jersey Drive Interlude
9 - Chubb Rock, OC & Jeru - Crooklyn Dodgers '95
10 - Mary J Blige & Smif N Wessun - I Love You (remix)
11 - Smif N Wessun - Sound Bwoy Burial
12 - Group Home – Livin' Proof
13 - KRS-One - MC's Act Like They Don't Know
14 - Mobb Deep & Noyd - Give Up the Goods
15 - Fab 5 - Leflaur Leflah Eshkoshka
16 - New Jersey Drive Interlude
17 - Big L - Put It On
18 - Notorious B.I.G. - Who Shot Ya?
19 - Junior Mafia - Player's Anthem
20 - Notorious B.I.G. & Total - Can't You See
21 - Boot Camp Click - Headz Ain't Ready
22 - Das Efx - Real Hip Hop
23 - Ill Al Scratch - Don't Shut Down On A Player
24 - New Jersey Drive Interlude
25 - Naughty By Nature – Craziest
26 - Lost Boyz – Lifestyles of the Rich and Shameless
27 - GZA – Shadowboxin'
28 - Redman & Method Man - How High
29 - Redman - Where Am I?
30 - Fat Joe - Shit Is Real (Primo rmx)
31 - Bone Thugs 'N Harmony - First Of The Month
32 - New Jersey Drive Outro
How To DOWNLOAD