Mick Boogie - Dirty Work 4: More Hustle, More Snow
Submitted by mfizzel on Tue, 11/29/2005 - 3:50pm.
Mixtape Directory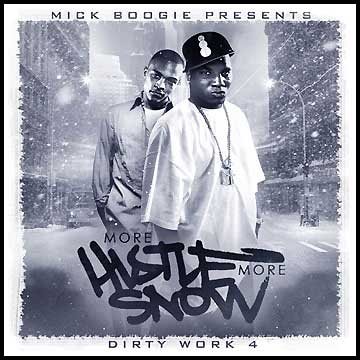 Mick Boogie collaborates with Grand Hustle's T.I. and Snowman Young
Jeezy to come up with More Hustle, More Snow, the sequel to DW3. This
mixtape brings you two of ATL's biggest acts with a twist, throwing in a
gang of blends/remixes and rare joints, including LIVE performances, all-
new freestyles and unreleased tracks. This is a certified crunk classic.
1 - Intro
2 - Young Jeezy & The Clipse - Movin' Weight (produced by The Kickdrums)
3 - Young Jeezy & Jody Breeze - Gangsta
4 - Young Jeezy & T.I. - Paper Chasin'
5 - Young Jeezy feat. Juelz Santana & Lil Wayne - Let Me Show You
6 - T.I. & Bun B - I'm A G
7 - T.I. , Slim Thug & Notorious B.I.G. - Breaking Old Habits
8 - Young Jeezy feat. Nas - We Jook (Mick Boogie mix)
9 - T.I. feat. Redman - Pimp Shit (Mick Boogie mix)
10 - Young Jeezy Speaks
11 - Young Jeezy, UGK & Jay-Z - Get Throwed
12 - T.I. feat. Young Jeezy - Where You From
13 - Young Jeezy feat. Rasheeda - Get This Money
14 - T.I. , Slim Thug & Jae Millz - Head Popped Off
15 - Young Jeezy - LIVE In The Booth
16 - Young Jeezy, Bun B & Scarface - Pushin'
17 - Young Jeezy Speaks
18 - Young Jeezy - Soul Survivor (Mick Boogie blend)
19 - Boyz N Da Hood feat. Jim Jones - Soul Survivor, pt. 2
20 - Young Jeezy feat. Youngbloodz - Bang, pt. 2 (Wally Sparks mix)
21 - Ray Cash Interlude
22 - Ray Cash - My Hood, part 2
23 - Young Jeezy Speaks
24 - Young Jeezy - 16 East (unreleased)
25 - Young Jeezy - Do Your Thug Thing (unreleased)
26 - Young Dro feat. T.I. - Shoulder Lean
27 - PSC feat. Youngbloodz - Some Fools
28 - PSC - On That Purp
UNSIGNED SPOTLIGHT
29 - HnR - Change the Game
30 - Freeze feat. Chubby Baby - Ridah
31 - German Luger - Full Time Job
32 - Empire feat. Crime Mob - Pass Me My Drink
How To DOWNLOAD