Juelz Santana - Back Like Cooked Crack 3 (Fiend Out)
Submitted by mfizzel on Tue, 11/22/2005 - 9:13pm.
Mixtape Directory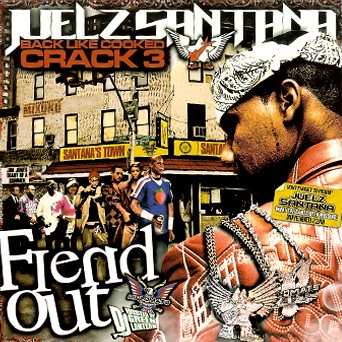 The Diplomats are back with a major part of their Movement, unveiling the official Juelz Santana mixtape before the approaching storm that is sure to have people from Harlem to Hawaii on the floor for days. With Juelz' album What The Game's Been Missing! coming soon, S.A.N.T.A.N.A. aka. Human Crack In The Flesh is joined by DJ Green Lantern, as The Evil Genius officially jumps off this major mixtape. Back with the Crack for the third time, this is definitely a certified Dipset classic, featuring all-new and exclusive tracks, freestyles and remixes from the Bandana Man. AYE!
1. Intro
2. Mr Postman
3. Shottas feat. Cam'ron & Sizzla
4. Kill A Man
5. Pop Off
6. Comeback
7. Murder feat. Cam'ron & Jim Jones
8. This Is That feat. Jim Jones & Game
9. Never Half Stepping
10. Regulator
11. Pick It Up
12. Hi My Name Is
13. Make It Work For You feat. Young Jeezy & Lil' Wayne
14. Take Notes
15. King Of NY
16. Salute feat. Hell Rell
17. You Don't Know
18. Never Seen A Man Cry
19. Fat Bitch
20. Santana On Fire
21. On The Block feat. Rab
22. Rest In Peace
How To DOWNLOAD